If you are tired of waiting in line to check-in your luggage and waiting some more at baggage claim, assuming that your luggage actually made it to your destination than this article is for you!
If you follow me on Instagram, I don't need to say that I love to travel! But what does need to be mentioned is that I love traveling light! I never check in baggage because I like to be in-and-out of the airport when I arrive. Why waste time at baggage claim when you can be poolside sipping on a cold drink? Not to mention all the extra costs associated with checking-in baggage nowadays. Ain't nobody got time for that!
After years of traveling, I've mastered the art of packing light without sacrificing style. Inserting Exhibit A here.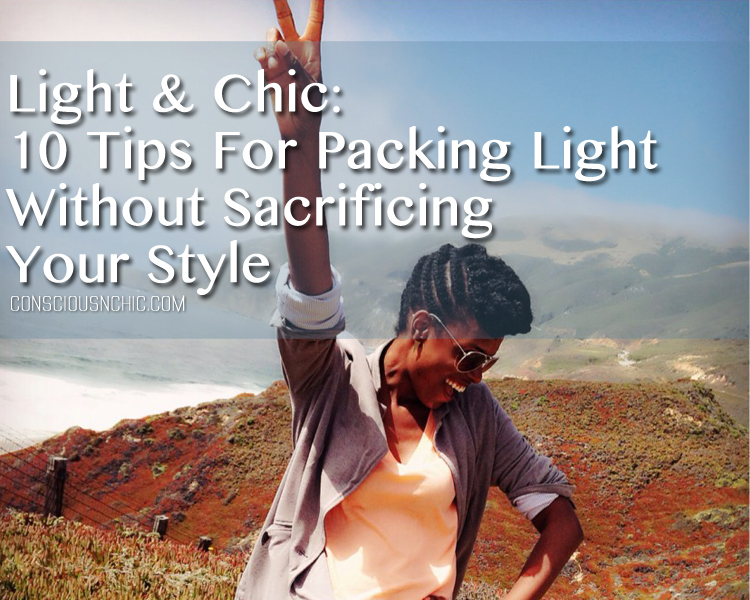 Last month, I spent 10 days in San Francisco where the weather changed at a minute's notice and still managed to, in the words of Erika Badu, pack light! Here's how you can do the same.
1. PERSONAL ITEM: BACKPACK OR DUFFLE 
Don't limit yourself to a purse as your personal item, when you can bring a backpack or small duffle bag. I used to carry a duffle but I now opt for a stylish black backpack with gold hardware because it's easy to carry, cute, and leaves my hands free to carry my boarding pass, cell phone, and passport. In my backpack, I store my entire tech arsenal in addition to all the things I'll need to access during the flight like an extra sweater, scarf, sleeping mask and ear buds.
2. WEAR BULKY ITEMS ON THE FLIGHT 
Since it's cold on the plane anyway, why not wear your bulkiest items like your jacket, sneakers, and hat directly onto the plane? This will free up a lot of space in your carry-on for an additional outfit and souvenirs.
3. HAVE FAITH IN YOUR HOTEL
I know people who travel with their own towels, pillows, and sheets. What for? Have a little faith in your hotel, people. That is simply too much to carry in addition to your clothes, beauty, hygiene and tech tools. If you are booking an Airbnb, check the reviews and amenities to ensure that the cleanliness and comfort of the host's home are up to your standards. The bottom line is: if you feel the need to bring additional amenities then perhaps you should be booking different accommodations.
4. IN THE CLUTCH
Bag ladies need not apply! For those of you who may not want to go out-and-about with your backpacks in tow, clutches, and small cross body bags are swanky alternatives. They give you versatility, style and are easy to store in a carry-on. Choose three drastically different styles and you've just catapulted your outfit options into the stratosphere.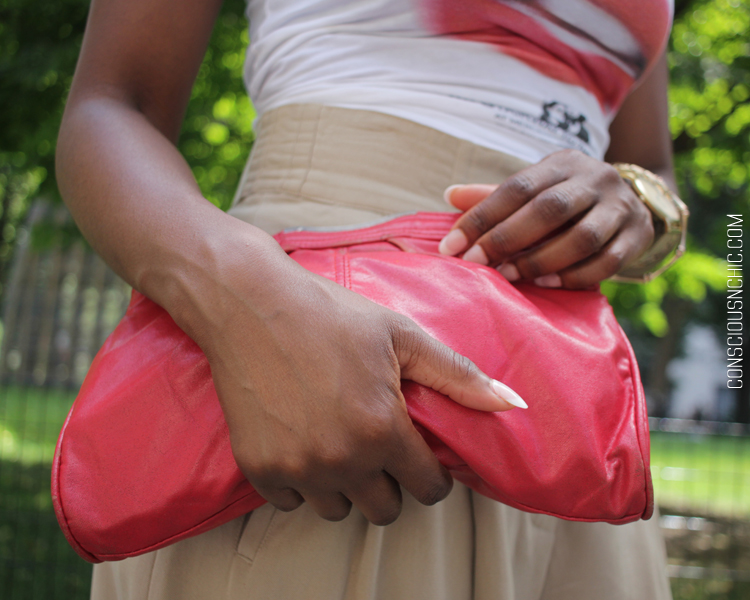 5. SHOES OR NAH!? 
Here's the clincher: in order to pack light you must limit the number of shoes you travel with. There is no way around it! Limit yourself to sneakers for working out, flip flops that can take you from the shower to the beach, comfortable flats for sightseeing, and one pair of heels. All shoe addicts freak out!!! No, believe me, if you plan your looks properly this shoe selection is all you'll need.
6. SAMPLES BABY 
Never travel with full-size products, never! Carrying heavy bottles of shampoo, conditioner, creams and lotions is such a waste of space and weight. You won't need it. Instead, purchase travel-size products / containers and fill them with your products.
BONUS: Did you know that you can get samples of your favorite beauty and hygiene products from Sephora? You can get up to 3 samples per visit no questions asked! So use this fun fact to your advantage for eye creams, serums, face lotion and face masks.
7. SEPARATION 
For easy access, pack three small makeup bags in your carry-on separating your makeup from your toiletries and tech stuff like chargers and extra batteries. This will help you stay organized  during your trip and avoid having to bring everything to the bathroom. Just grab the bag you need and go!
BONUS: traveling to a destination where you know you will find a pharmacy and a Sephora? Buy your toiletries and products upon arrival instead of traveling with them.
8. EMPTY BAGS 
Save some space in your carry-on for an empty canvas bag for those days when you may not want to wear your backpack but a clutch would be too small. It will be perfect for days on the beach and casual outings. Plus, you'll get to rep a brand you love. I've accumulated several canvas bags over the years and rarely get a chance to put them to good use. I also recommend you pack a couple of plastic bags to discard trash while on the move and store dirty laundry to keep those items separate from your clean clothes.
9. AWAKEN YOUR INNER STYLIST 
I cannot stress this next tip enough. Plan your outfits ahead of time. Plan your outfits ahead of time. I'll write it again: PLAN your outfits ahead of time! Instead of packing "options" pack complete outfits from head-to-toe. I know what you're thinking and I can assure you that you will not lose on the versatility front. Out of these fully planned looks, you will be able to create a multitude of additional options to mix and match. That's the beauty of this method! Lastly, since traveling can be tiring and play tricks on your mind, take pictures of each outfit for easy reference. When the time comes for you to get dressed just refer back to your pictures to select what to wear. In addition to making getting dressed a breeze, this photos system also enables you to know what you packed without having to rummage through your bag to create new outfits.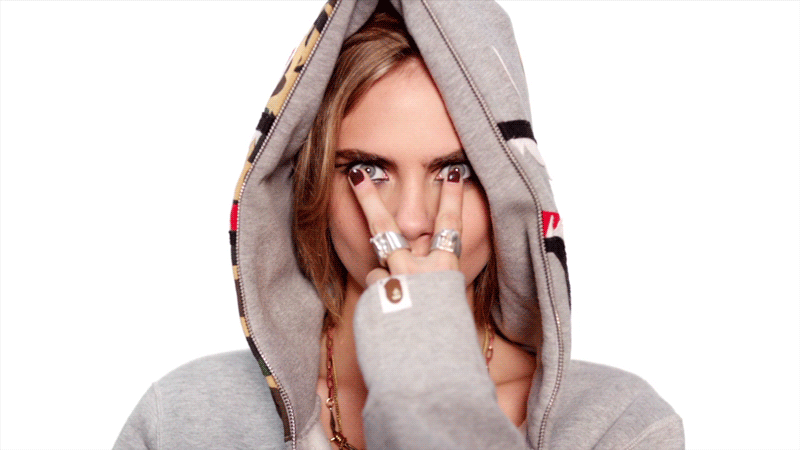 10. ROLL IT UP
When packing a bag or carry-on, maximizing space is essential. The best technique I've found to date is the rolling method. I've tried folding and laying my clothes flat in my carry-on and rolling them instead works best. It saves a lot of space because I can fit everything in like a jigsaw puzzle. Some people use packing cubes but I have yet to try that option.
Once all the clothes are neatly tucked into every nook and cranny, pack your shoes on top face-down to avoid dirtying your clothes. Depending on the pair, you may want to put them in a shoe bag or lay a plastic bag on top of them to avoid the soles from getting in contact with the inside of your bag. Makeup and toiletries bags also go on top of your clothes. Because these bags are small, they should be easy to fit in. Lastly, all your other bags: clutches, canvas bags, and plastic bags can fit neatly into the mesh compartment.
Not checking-in baggage when you travel saves you time, money and sanity. The potential headache of lost luggage is simply not worth it. Believe me, I've been there!
SAN FRANCISCO LOOKBOOK COMING SOON!