Designer Watch: Raqquyah Webb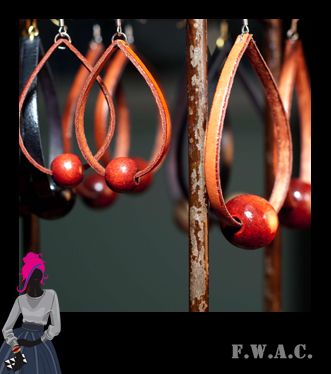 In honor of our women's month issue, I am excited to introduce to you one of my favorite local jewelry designers, Raqquyah Webb. A little over 5 years ago Webb, a Brooklyn native, started making jewelry as a hobby but 2 years later she turned her love for accessories into a business: Adorn New York. The road that led her to where she is today wasn't an easy one. It all started when Webb and a friend were given the opportunity to vend at a neighborhood street fair. They quickly gathered all the materials they could from Fashion Ave and created a full line of printed t-shirts and handmade jewelry. And all that in just 4 weeks. Their items were such a hit that Webb continued to design even after her and her business partner parted ways.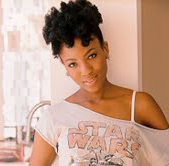 This weekend Webb will be hosting her very first trunk show at Chouchounette, a pretty boutique in Park Slope. But before the big day I sat down with the designer on the rise for a little one on one. From her favorite dessert, her mom's pineapple coconut cake, to must-have spring and summer accessories, we covered it all. Read on to find out the secrets to her success.
F.W.A.C.: Who is the Adorn New York lady? 
Webb: The professional woman. Ages 25-35…give or take 5 years.
F.W.A.C.: Why did you name your line Adorn New York?
Webb: After weeks of searching for words like jewelry, beauty, women and even ear, in other languages, I still hadn't found the proper name that embodied my vision. Throwing my hands in the air, I gave up the search and that's when the name Adorn came to me. I remember the first definition I found was, 'to add beauty to.' That sealed the deal.
F.W.A.C.: What are your favorite spring/summer 2012 fashion and accessory trends? 
Webb: Tribal touches, color (including oranges and gold) and wonderful prints, all of which I am experimenting with.
F.W.A.C.: What should our readers invest in?
Webb: Prints, prints, prints!
F.W.A.C.: What advice would you give to a student who wants to pursue a career in jewelry/ accessories design?
Webb: Education is imperative, it also makes life a lot easier.  Trial and error is a fact of life, but making educated and wise decisions takes a lot less time and often yields better results. Talent opens the door, but skill keeps it open. Study what you love. Also, it's important to establish who you are as a designer and not stray away from that.
F.W.A.C.: What advice would you give to someone who wants to launch their own business? 
Webb: Do a google search, lol. There is actually a lot of info on the web. You can find checklists for how to start a business and also info for different entrepreneur workshops and other initiatives…that are free! Also, find someone who is doing what you want to do and ask them a lot of questions.
F.W.A.C.: Why should people come out to the event? 
Webb: Because I really love my jewelry and am excited to show everyone my new designs!  When an artist pours their heart into their work, the work should be shared. The Trunk Show will be a lot of fun.  Raffles, games, jewelery and sangria.  What more can you ask for?
F.W.A.C.: You have gorgeous skin! what is your must-have beauty product? 
Webb: St. Ives invigorating Apricot Face scrub. My skin falls to pieces without it.
Webb: YES!!! Adorn Public Nation, my new endeavor, under the umbrella of Adorn New York, is an initiative focusing on kids and teens in my local area. The goal is to motivate and inspire through creativity, activity and laughter.
I love interviewing women who know who they are and what they want to achieve. Webb is definitely one of those women. If you want to know more about Raqquyah Webb and Adorn New York come out to the event tomorrow. (See details below.)