#FashionObsession: Arm Candy
via @chriselletweets, @anneorshine1, and @evelinabarry #FF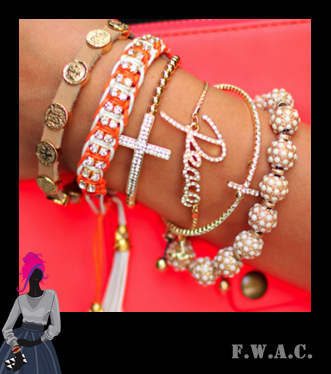 Lately, we've been sharing some of our obsessions with you on our Facebook page. We've posted pictures of red shoes, turbans, printed shorts, Christian Louboutin nails, etc. There is not a day that goes by without us being obsessed about something fab. Today we are falling over arm candy. What we love about arm candy is that it is a fun way to make a statement and show your personality. Arm candy is easy to create, all you have to do is stack on 4 or more of your favorite cuffs and bracelets on one arm and voila. And with arm candy the sky is the limit. You can create as many combinations as you want. You can choose to go with a monochromatic look with all gold or all silver bracelets. You can also choose to walk on the wild side and mix in some color and turn your arm candy into an arm party. What's most important is that you have fun with it and experiment. Speaking of experimenting, you can also create your own bracelets. Check out the following 3 DIY videos we've selected for you.
First, in this video Chriselle Lim shows you how to take really inexpensive bracelets and transform them into colorful arm candy. In this video Chriselle's friend is a bit A.D.D. with the "home video" camera but the footage is funny and really educational so just go with it.
Now for the more experienced crafters out there, Evelina is showing you how to create really pretty and dainty bracelets from scratch.
Last but not least, we have a video by Anne.  This video is similar to the previous one but instead of using beads she is using screw nuts which resulted in a pretty cool effect! Who knew you could create fashion from Home Depot!
For more arm candy ideas check out our Facebook wall. We will be posting pictures all day! And don't forget that sharing is caring. So if you are rocking some arm candy or making your own don't forget to show us on Facebook and Twitter.
Arm candy is so hot this summer so wear a lot of it and let your fashion style shine!
Muah!