Up Close and Personal w/ @TippiShorter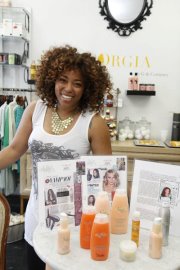 My interview with Tippi Shorter is one of my ultimate favorite of the year. This woman does it all and looks great doing it. She is a mom, a wife, a celebrity hairstylist, a hair care line creator and the ultimate glamournator!   If you want to know how this California girl went from being a hair model to becoming one of the most successful celebrity hairstylist in the world with clients like Alicia Keys just keep reading.
F.W.A.C.: Tell us your story. How did Tippi Shorter get started?
Tippi: In high school, my hair stylist's mother was a well known stylist in L.A. and would put on hair shows all the time. I became one of their hair models so I kind of grew up in the hair industry; not as a stylist but as a hair model. And I just loved the environment, the creativity and that they were able to be, do, look however they wanted. That truly inspired me.
F.W.A.C.: Is this why you became a hairstylist?
Tippi: I knew I wanted to be involved in the fashion and beauty industry, I just didn't know in which capacity. Out of high school I went to college for criminal justice because my mom told me I had to do something. In retrospect, I think I could have been a cop! Who knows… anyway. Once I realized that, that wasn't really for me, I decided to start doing something I knew I loved and would want to do for the rest of my life. I got an opportunity to be a hair stylist's assistant to this amazing celebrity hairstylist in California by the name of Jamika Wilson. She worked with Cece Peniston, groups like Brownstone and still has a successful salon after 20 years called Identities. Shout out to Jamika!!! But at that point I had not gone to beauty school so I had to get my license and right out of school I had a job waiting for me. That was amazing. I trained under Jamika for about a year. Learning cutting, coloring, styling and things like that. So I got my first taste of working with celebrities and I knew that was what I wanted to do.
F.W.A.C.: How did you get your big break?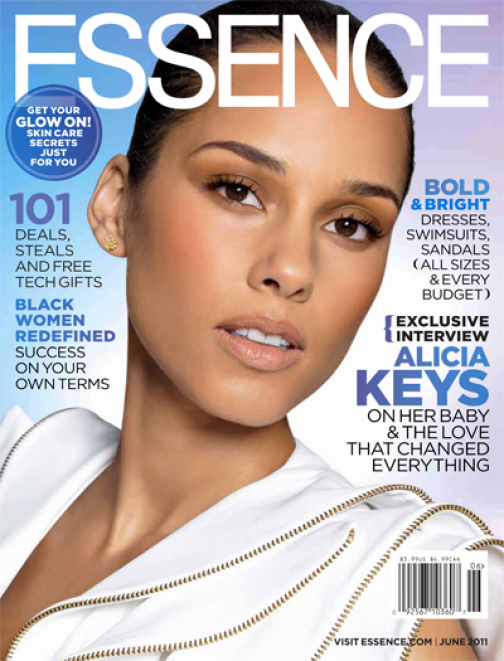 Tippi: Well, I figured if I was going to be a hair stylist, I should do it at the highest level that I could. So I moved to New York! And I started literally from the bottom up. I came, I assisted again, after just assisting for a year and I started building my clientele. Honestly the opportunities just started coming. I feel like if you put yourself around the people who are doing what you want to do, then eventually, after due diligence, the opportunities will come. And that's exactly what happened. My roommate at the time was interning at Essence Magazine and I took that opportunity to let all those girls at Essence know that there was a hair stylist here by the name of Tippi and that I was ready to work for them. I made sure my roommate had different hairstyles every week. It could be short and blond, long and purple, big and red, slick and blue…whatever. But it was always cute. So that started to bring a lot of the ladies of Essence to my chair in the salon. Finally, the beauty editor became a client of mine and she brought me in to meet the infamous Mikki Taylor! Yes, it was in 1997, I'll never forget the day. I had my very first photo shoot with Essence, it was this little bitty photo, about the size of a quarter. It didn't matter. My name was under it and I had been published. So things just grew from there but Essence mag definitely gave me my first editorial opportunity.
F.W.A.C.: You've had a long enduring career, how the industry changed you?
Tippi: Honestly, I would probably say that I was a lot more eager and driven and hungry at the beginning because I was very green and really didn't know what I needed to do and the proper ways to go about things. I just did what I knew because, honestly, I was in survival mode. I moved to New York and I was going to make it damn it… however I could. Looking back, I don't regret anything. I didn't step on any toes or burned any bridges. However, I probably would have taken more classes and built a portfolio. I'm still the same person. I've always been respectful of my peers. I've always admired my peers. There are still people today who I would assist at the drop of a hat. Because no matter what, I still admire their work and I still look up to them. So honestly I would say nothing has changed except for where, how and who I style.
F.W.A.C.: At the Essence Beauty Awards, you took pictures with Ted Gibson and Ursula Stephen, two very successful celebrity hair stylists. It was a beautiful thing to see. How do you keep a humble heart?
Tippi: Well, the first thing, as hair stylists, we never really get to know one another because we don't work together. I know a million make up artists because when I'm working with someone, it's always with a make-up artist. It is obviously never with another hair stylist. And there never was really a time when I've said: oh I don't like that hair stylist because of this or I don't like what they are doing. I just respect a person for their talent so when I do get the opportunity to meet other hair stylists whose work I may be familiar with whether I like it or not, I appreciate their struggle and their hustle. Like Ted, I never met before but we are friends on Facebook and we have a general respect for one another. So I was truly happy for him with his accomplishments and the award  he got that night. But you know, for me I just look at it like, wow Ted! You're doing it. Thanks for paving the way and hopefully I can be there next year.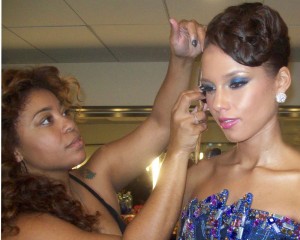 F.W.A.C.: What advice would you give to someone who wants to be a celebrity hair stylist?
Tippi: I would say, find someone to assist. You know, I think it is kind of naive to think you are going to jump from school to being Mary J. Blige's hair stylist. It's possible. It's happened not necessarily with Mary but you might know someone, who knows someone, who knows someone who puts you in that position. I would say assist because it's not all just about styling hair. It's also about how you carry yourself, professionalism and, speed. You're not only dealing with your client. You're dealing with your clients agent, publicist, manager  and, record label. There are at least 10 other people you have to please and I think a lot of new people don't really understand that. So I would say assist someone who is doing what you aspire to do and learn.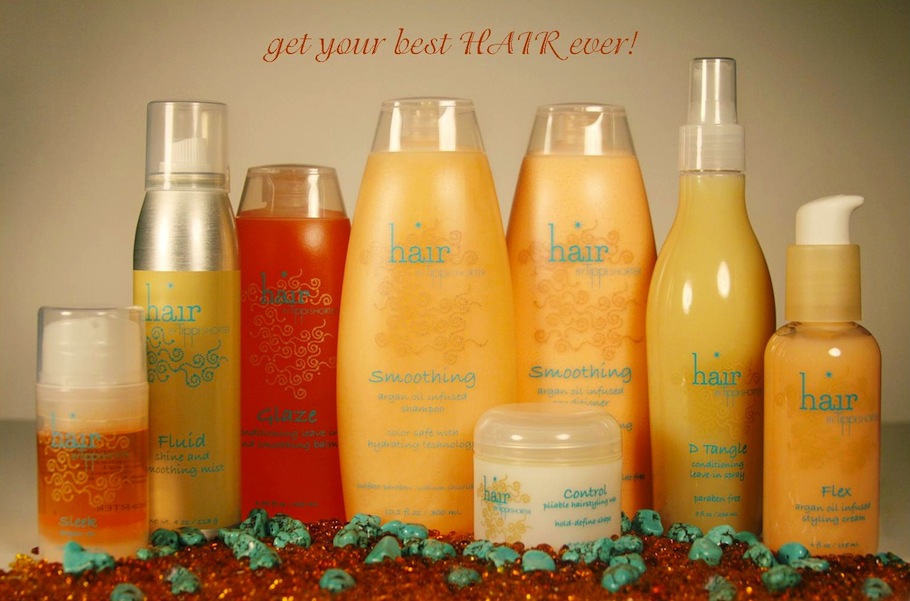 F.W.A.C.: You have your own hair care line now, Hair by Tippi Shorter, how did that opportunity come about?
Tippi: I've been a spokesperson for Pantene for the last 8 years or so, then I moved to Avon, Treseme and Ojon. So I've been working a lot with the big players of Estee Lauder and Proctor and Gamble. They have been hiring me, this little brown girl from Long Beach California, to speak on behalf of their major brands. And I figured if they like what I have to say and they think my word is valid to the consumer, then why aren't I talking about my own products. So that's where that idea came from.
F.W.A.C.: What are your favorite summer hair trends?
Tippi: I am a big hair girl and I love this time of year because everyone can just let it fly, let it get big, and I love it! So I'm all into waves, textures, curls, kinks, whatever. I just love big hair so this is my favorite time of the year.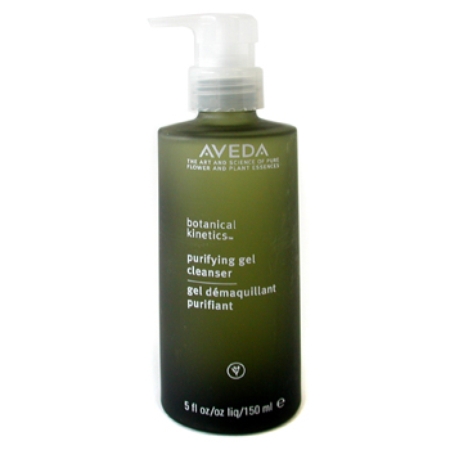 F.W.A.C: You have really beautiful hair and skin. What are your must-have beauty products?
Tippi: Oh girl thank you!!! Hair by Tippi Shorter for my hair of course! You didn't see my face this morning! Haaahaaa! The facial cleanser that I have been loving lately is the Aveda Gel Cleanser. I love Origins Face Scrub, I probably use it every other day. I don't wear a lot of make up. I have very sensitive skin so I try to find products that are oil free. Honestly the foundation that I love, is so random! I found it off the beaten path at the beauty show. I don't even know if it has a main manufacturer. I think it is called Crown. It's super random, but I ran into a make up artist yesterday who is an amazing Emmy Award winner and he was like, Tippi, your face, your skin looks so good. I just said: thank you and it's from this $3 foundation. So I'm sticking with it. It's my secret!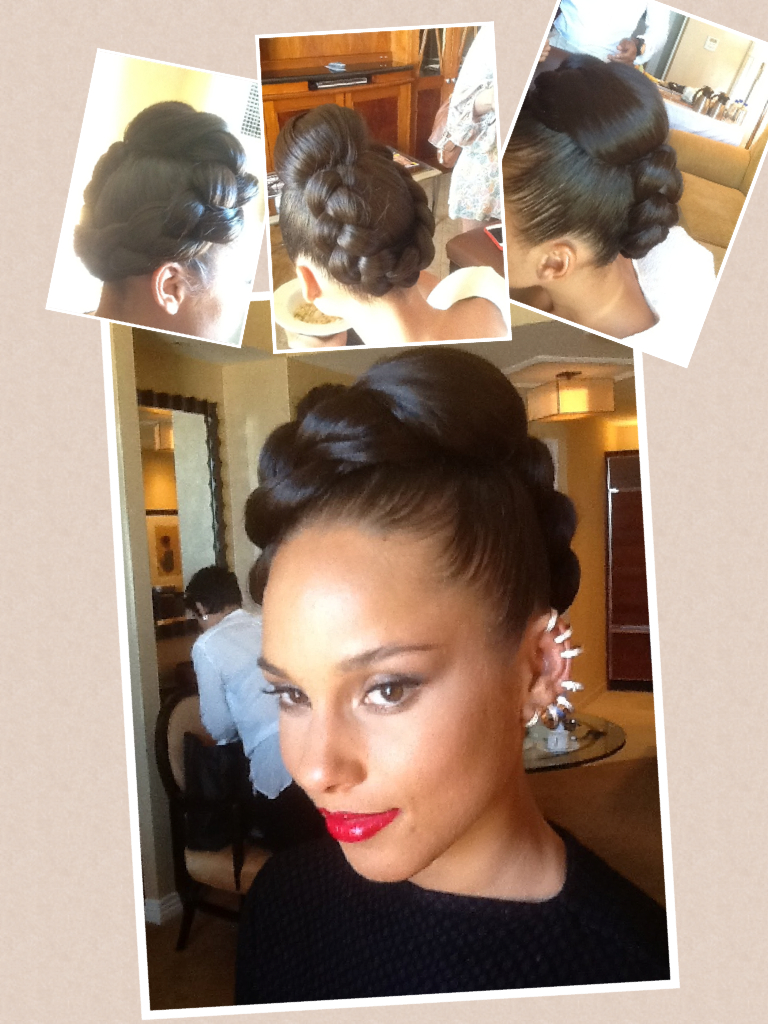 F.W.A.C.: Who are some of the celebs you have styled, who's your favorite?
Tippi: I don't have a favorite. They are all my favorite. But my clients include or have included over the course of my career: of course Alicia Keys, Jennifer Hudson, Lady Gaga, Beyonce, I worked with Rihanna for a couple of years, Kerry Hilson, Mary J. Blige, Vanessa Williams. Almost every woman of color has been in my chair maybe at least once.
F.W.A.C.: All the wives and mothers out there are wondering, how do you find time to do it all?
Tippi: I have an amazing husband. I have a patient and understanding daughter. I have an awesome agent. I have an amazing network of friends and support system and I get very little sleep. And I am a fan of the iced vanilla latte. Oh wait the skinny vanilla latte!
F.W.A.C.: Through Fashion With A Conscience, my goal is to raise awareness via fashion and beauty so  I'd love to know if you have a cause that is dear to your heart?
Tippi: I have several. I can't say that I have dedicated my career and myself to one specifically. I don't have any cause that's affected me personally but I've had a lot of situations that have affected my family. So if I had to pick one right now, I would choose a cause that fights against abuse of children. I just look at my daughter and all day long, even thought I've never met anyone who could make me love her and want to hug her while I am screaming at her at the same time. Just how you have 2 emotions like that. But I could never imagine harming her. So anyone who would do anything like that to a child, is beyond me and I couldn't.. it just hurts my heart. If I had to choose one it would be protecting kids against violence.
F.W.A.C: As you mature as a woman you become more confident and comfortable in your own skin. What advice would you give to a younger woman who is looking for herself?
Tippi: Don't sweat the small stuff in anything: relationships, with yourself, your family. Don't sweat the small stuff, because it is not worth the drama, the hassle and the headache.
Well said Tippi!