Up Close and Personal w/ @PorterGrey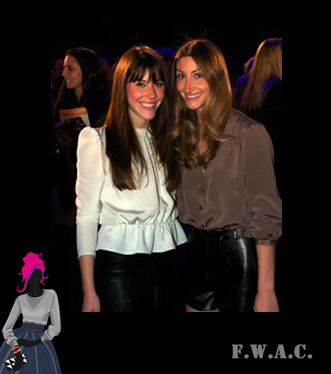 Pictured: Alexandra O'Neil & Kristen O'Neil, Porter Grey designers.
One summer 5 years ago, Alexandra O'Neil who has had a talent for fashion since she was a little girl and her sister Kristen decided to try creating a fashion line. They started with a really small collection of which Alexandra sewed half of the samples herself. From there they grew and figured out who they were as designers and Porter Grey took off from there. This is extremely impressive considering that neither of them studied in fashion but were history majors. This was their 3rd time showing at New York Fashion Week and I had the pleasure of chatting with them right after the show.
F.W.A.C.: Now that the show is over, how do you feel?
Kristen: It always feels good when it's over. We did a pretty good job.
Alexandra: I think it turned out very well. It's great to see it all on the stage together and everything come together.
Kristen: We work almost 8 months on the collection so within an hour you basically get to see what we worked on for a little over half of the year.
F.W.A.C.: What was the inspiration for this collection?
Alexandra: The American Frontier. We developed two prints for the collection: the first one is a prairie print with a tiny floral stripe and the second print was inspired by Native American textiles. As you saw there was a lot of layering and a lot of texture in the prints.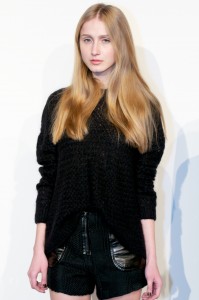 F.W.A.C.: This is your 3rd time showing at NYFW and you've been doing this for 5 years. What do you have in store for the next 5 years? Where do you see Porter Grey?
Kristen: We have to worry about next week first. It is just such a mad rush getting everything together in the last couple weeks leading into fashion week that you sort of neglect your real life. We have a work life and a real life. So now we get to recap on what we did, get ready for market because that's obviously so important, it starts next week, and then from there we have to dive right into resort.
F.W.A.C.: From meeting your mother and grandmother we can tell that this has been such a great family affair. Tell us more about your grandmother who you named your line after?
Kristen:  We didn't name the line after Gigi, we actually named it after our great-grandmother. But Gigi is actually the one who taught Ally how to sew so Gigi is really responsible for all of this.
F.W.A.C.: Tell us more about your great-grandmother.
Kristen: Our great-grandmother had such a great name: Catherine Porter Grey. She lived down the street from us and she was always such a strong presence in our life so we just thought that it would be a really nice tribute and also we didn't really like our own names that much.
When I asked if they ever thought of changing their names both girls said that they were ok with their names. Kristen confessed of being happy with her name although it is very 80′s in her opinion. "That's who I am."

F.W.A.C.: As far as being in business together since you are sisters… who is the head who is the muscles?
Kristen (laughing): We are always asked this question and to answer you honestly, we don't fight.
Alexandra (also laughing): We have such a nice balance between us, but I am the muscles, Krissy is the head.
Kristen (agreeing with Alexandra): Alley is very strong.
F.W.A.C.: What is your secret in keeping your personal relationship separate from your business relationship?
Kristen: We spend entirely too much time together. But the strange thing is that it really didn't change when we started working together because we have always spent way too much time together.  We've pretty much been inseparable our whole lives, we shared a room together when we were little. We had slumber parties probably too often as well.  We just get along really well. We are just really fortunate and we have a wonderful family and our brother always helps out so it's just a little family affair.  We are very lucky to have each other.
F.W.A.C.: If you weren't designers what would you be doing?
Kristen: I think Alley would be working in a zoo.
Alexandra: We basically are working in a zoo, we have 4 dogs. So it would be the same life for me.
Kristen: I definitely would not be working in a zoo. I have one dog and I love him very much but that's it. I don't know what I would be doing. I'm happy that Alley sort of picked my path in life so I am just coming along for the ride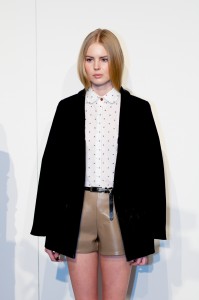 F.W.A.C.: What advise would you give to up and coming designers or fashion students at Parsons or FIT who want to become fashion designers?
Kristen: The most important thing is having a partner. It is very difficult starting your own company not just in fashion but in any industry. It is important to have someone who can take some of the workload off of you. Physically and emotionally it is very demanding so having someone to balance it out is a must. Even if it is just to bounce ideas off of each other, it's nice to have a partner in crime. I'm used to being the bad cop and knowing that Alley can sometimes play bad cop is nice to know.
F.W.A.C.: Are there any special causes that you support?
Kristen: I would have to say breast cancer: our mother, aunt and grandmother are all survivors of breast cancer so this cause is very close to our heart.
When asked what their beauty must-have was, Alexandra and Kristen answered simultaneously: Palmers Coco Butter Stick. They use it as a chap stick. They actually had it with them at the show. "It's amazing. It looks like a glue stick so people look at us but it's great." For more beauty from Porter Grey check out our Beauty Report.
You can buy Porter Grey at retailers like Saks, Neiman Marcus and Bergdorf.
Photo credits: Mario Villanueva 
For your full backstage and front of house access. Check out our Porter Grey album on Facebook.