Style Struck: Oliberté | Interview w/ The First Fair Trade Certified™ Footwear Brand (in the world)
"If I could tell the whole world one thing, it would be this: Today is only the same day as yesterday, if we do nothing about tomorrow." – Tal Dehtiar, Creator of Oliberté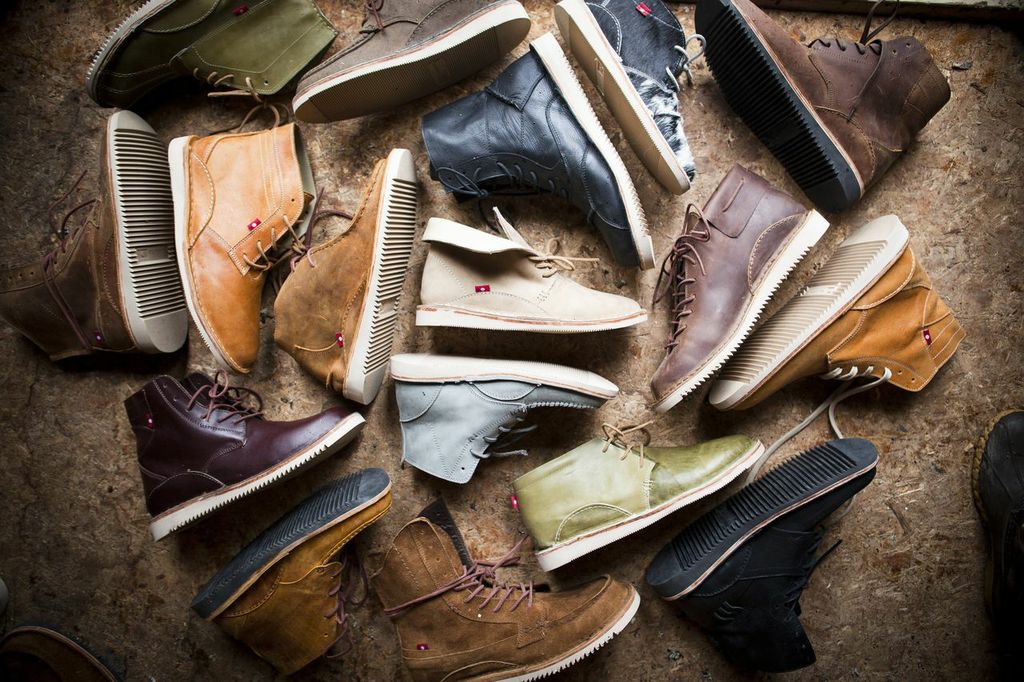 Oliberté is a Fair Trade USA, Toronto based lifestyle brand that supports worker's rights in Sub-Saharan Africa. It was founded in 2009 by Tal Dehtiar who is a true citizen of the world. In fact, he was born in Israel, raised in Canada, lived in Chile selling sandwiches on the beach and after his MBA, he co-founded and led MBAs Without Borders, an international charity that supports socially minded businesses across 25 countries in Africa, Asia and Latin America. After gaining a lot of insight from this endeavor, he decided to launch Oliberté.
Oliberté is far from being your average shoes manufacturer. In fact, it is the first Fair Trade Certifiedâ"¢ footwear company in the world. If this wasn't enough, last fall, the already conscious brand joined 1% For The Planet which connects businesses, consumers, and nonprofits, empowering everyone to drive big, positive change. As a part of 1% For The Planet Oliberté pledged to give 1% of its gross sales to environmental and social justice focused non-profit organizations. This young growing brand has garnered quite a following and has been featured on MTV News, ET and CNN.
Oliberté caught my attention a few seasons ago because of its unconventional style and quality.
FWAC: Why did you create Oliberté?
TD: I grew frustrated with traditional non-profits, and wanted to find a better way to sustain the middle class in Africa. From my work with MBAs Without Borders, I learned that Africa had plenty of incredible resources that could be maintained sustainably, and that there was a great potential for manufacturing and craftsmanship. While the background drove the product, I also knew a clean, premium product that could sell itself was a must, which is how we decided on the leather shoes and gear that you see today.
FWAC: Why do you produce your goods with a sense of social responsibility?
TD: It is unfortunate that this question even has to be asked — the debate should not have to be money-hungry for-profit business vs. tree-hugging social business. When I ventured on creating premium footwear in Africa, it's true – the idea was to support a proud Africa and show the world that it's a capable, awesome place.
"But business, fashion, everything should be done with its impact in mind, and intent to do good." – Tal Dehtiar
Dehtiar also owes the success of Oliberté to a wonderful team in Africa who makes the brand what it is by crafting such quality product. "Without our manager there who has been with us since day one, or everyone's hard work every single day, we wouldn't be anything." said Dehtiar.
The brand's social entrepreneurship story is inspiring but in today's context being conscious is not enough. This is why I appreciate Dehtiar's vision and eagerness to create a product with both substance and style. Here are my personal favorites from the current collection: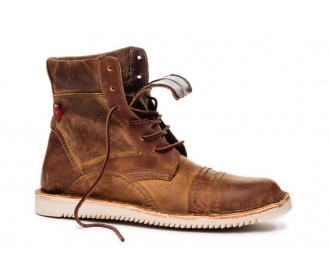 NGOLA in Rustic Brown Pullup, $170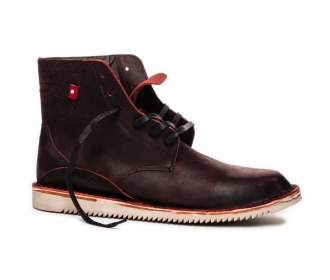 GANDO in Black / Red Pullup, $160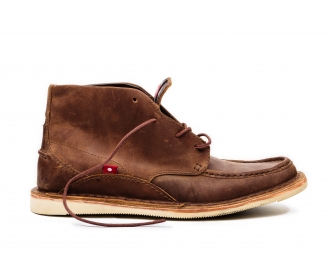 MOGADO HI in Brown / Yellow Pullup, $150
FWAC: Who wears Oliberté?
TD: We primarily sell in North America. Our customer tends to be a world-savvy, fashion-forward person who knows what it means to invest in a product that is made to last, and recognizes the power of a sustainable story. But honestly, it could also be a high school kid who just likes the look and that's just as awesome. We also recently got a great tweet from a guy in Ireland who is stoked about his Zimbos.
FWAC: What would you say to someone who wants to create a social enterprise?
TD: The best advice I've ever been given is "There is no such thing as no–just not now." Find something you are passionate about, go for it, listen to the answers you are getting. Also, make sure you do your research on local cultures, economies, and impact of your plans – a well-intentioned project can be incredibly harmful if these efforts aren't made.
For more on Oliberté's incredible impact, watch this video.
Stay Conscious + Chic!

 Photos courtesy of Oliberté.