It's quite possible that Mother Nature took survey of the world's skin and hair concerns and created shea butter as the solution. Shea butter contains natural levels of Vitamins A, E, and F; it's a super food that when extracted properly and used in its unrefined state has remarkable health benefits for the skin and hair.
Let me be honest, you may have been duped by the maker of your shea butter product! Only pure, unrefined shea butter has the true beneficial and moisturizing properties that most brands market. However, these properties are only maintained through a natural extraction process specific to the traditional process used by women producers in Africa. Unknown to many, over 90% of shea butter brought to the global makertplace does not fit this criteria. Most shea butter is made by large seed oil manufactures that produce shea butter using a chemical refinement process. Shea Yeleen is different. We work closely with women-owned cooperatives in Ghana, to ensure a high-quality, unrefined and consistent product that is organic, vegan and free of toxins and chemicals used in most commercialized, refined shea butter.

Every household should have a jar of pure shea butter to moisturize and condition their hair and skin. Here are 5 health benefits of using unrefined shea butter.
1. Soothes inflammatory skin conditions: Shea butter has natural anti-inflammatory properties that have been known to improve acne, heal burns, relieve sunburn and ease the pain of arthritis. A 2010 study names cinnemaic acid as the specific anti-inflammatory agent in shea butter.
2. Provides anti-wrinkle benefits: Shea butter protects and nourishes the skins to prevent drying which accelerates the aging process. Shea butter essential fatty that aid the skin's collagen production keeping your skin beautiful and wrinkle-free longer. Shea butter contains nourishing vitamins A, C and E which are known as anti –aging skincare vitamins.
3. Hydrates and nourishes skin: Dry, cracked and itchy skin is usually a symptom of skin that is in need of a dose of nourishing essential fatty acids. Shea butter is rich in essential fatty acids that nourishes, hydrates and restores. Add a little extra on those dry places to have head-to-toe nourished and hydrated skin.
4. Natural sunscreen: Shea butter contains natural sun screen properties that protect up to SPF 6 that mildly protect both your hair and skin from harmful sunrays. Shea butter alone should not replace your sunscreen but could be used to help provide more sun protection.
5. Natural hair conditioner: Shea butter is both a moisturizing and protective product that reduces dry and split ends. For hair types that require very little oil using shea butter on your ends as a conditioner before you shampoo will improve the health of your hair and for curly and coily hair textures that may require more oil, using shea butter as a conditioning styling product will improve the health of your hair while giving your a hair a healthy glow.
Shea Yeleen blends our unique shea butter with pure essential oils and natural ingredients to create moisturizing, nourishing Body Butters, Soaps, Body Balms, and Lip Balms. Inspired by nature, each product hydrates, protects, and softens normal to dry skin types, helping to soothe minor skin irritations and smooth skin's texture and complexion.

Bonus Benefit
Fair Trade: Fair trade in a nut shell is paying fair wages and ensuring ethical working conditions. On a broader scale it improves the environment by supporting ethical and sustainable manufacturing practices and it improves the lives of producers by valuing their time, skill, and paying a living wage. For the consumer, buying a fair trade product should feel good, it's buying things that you need but also supporting communities all over the world.
Want more? Visit our website, www.sheayeleen.com to purchase any of our nourishing Body Creams, Soaps, Body Balms, and Lip Balms. Be sure to follow @sheayeleen on Facebook, Twitter, Instagram, and YouTube.
About Author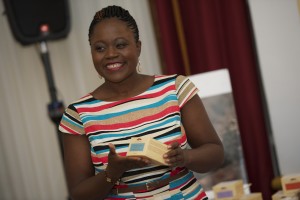 Rahama Wright founder and CEO of Shea Yeleen a social impact company that sells high quality shea butter products that are a source of living wages for women in Northern Ghana.
"This summer was an exciting time for the company as I started to implement growth strategies which included pitching to a Canadian distributor to bring our line of high quality all natural fair trade beauty product to a new market.  I was immediately told I needed to redo my packaging, which presented its own set of challenges including finding a French translator, hiring a graphic designer, and managing a tight deadline. During the management of updating packaging to meet Canadian regulations, I also embarked on developing a new formula for our body creams to not only remove the ingredient Phenoxythanol, but to also create new scents for our customers. As a small company with limited staff, it was a challenge, but well-worth the effort. We now have new products that launched just in time for the holidays and pretty soon our products will be on the shelves of Canadian retailers." – Rahana Wright
Photos courtesy of Shea Yeleen.