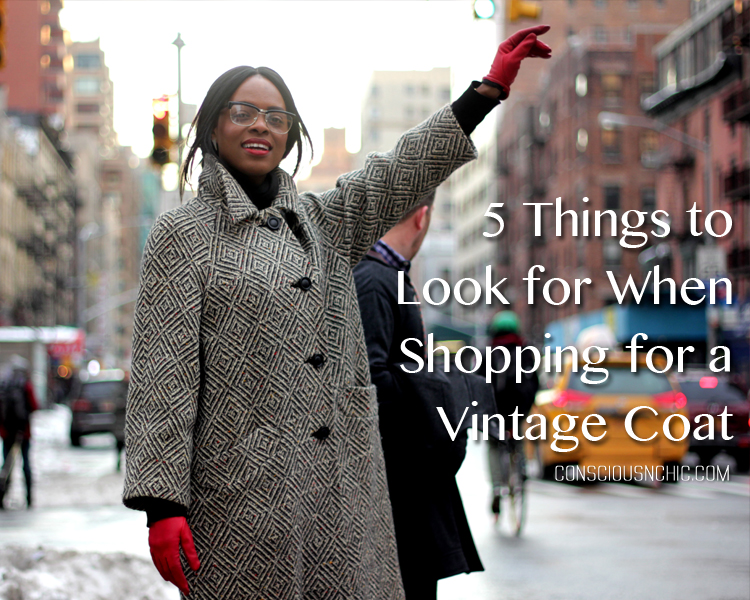 I love vintage shopping but since of the evolution of garment fitting, finding a vintage coat that fits perfectly can prove to be challenging.
Here are 5 areas you should pay close attention to when buying a vintage coat.
1. TEXTILE & FINISH
It's no secret that vintage clothing offers higher durability and quality in every aspect of the supply chain. Back in the 1920's through the 1960's-70's tailors put a lot of care into the textiles they chose, the tailoring and finishes of their creations. True vintage pieces shine by their superior quality without it, you may not be looking at an authentic vintage piece.  
2. COLLAR
What fun it is to explore all the different collars vintage fashion has to offer. Have fun with it but make sure the neckline of the collar sits properly on your neck without being too tight or too loose.
Don't discount traditional collar shapes, you can jazz them up with a scarf and by wearing them upwards… you know, pop your collar!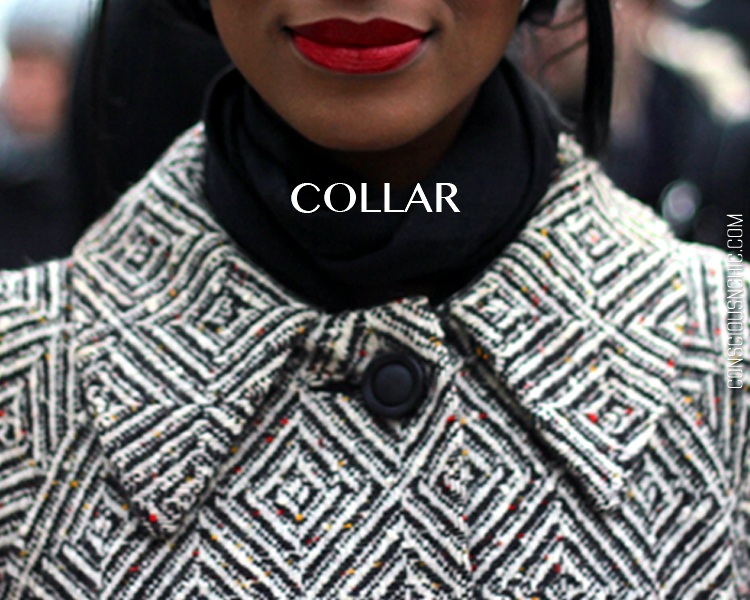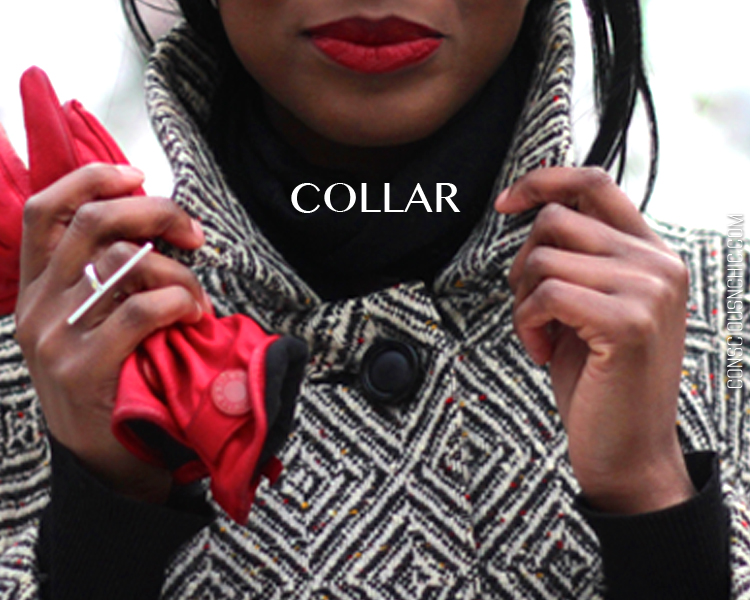 3. SLEEVE
When it comes to the sleeve, you should look at both the length and the armhole. The coat I am wearing here is a raglan sleeve which can prove to be more forgiving then a regular armhole. Be advised however that raglan sleeves can be ill fitting at the shoulder if you have small or slouchy shoulders.
As for the sleeve length, depending on the jacket style, vintage sleeve lengths vary from long, to bracelet to three quarter length sleeves. Fear not, sleeves are usually easy to lengthen as long as there is enough hem allowance left on the inside of the sleeve. See a tailor for more personalized help.
Since I have long arms, my quick fix is wearing a black cardigan underneath to make up the difference when I want a full length sleeve look.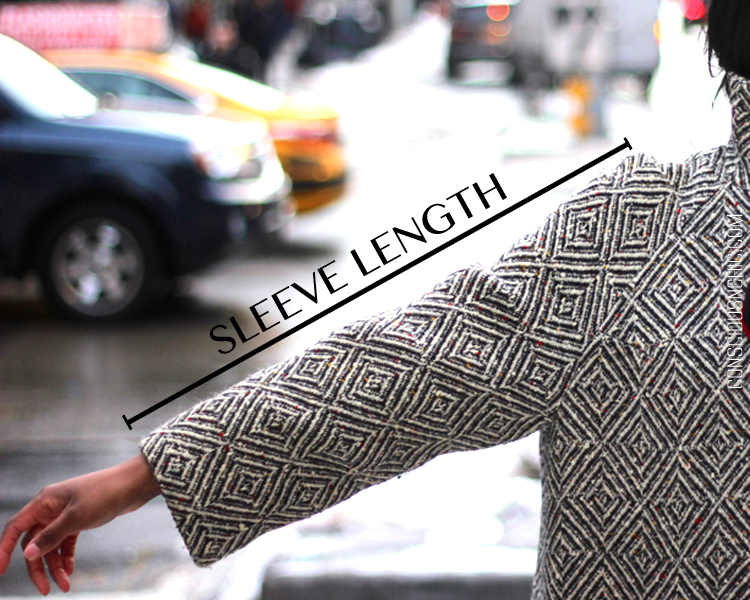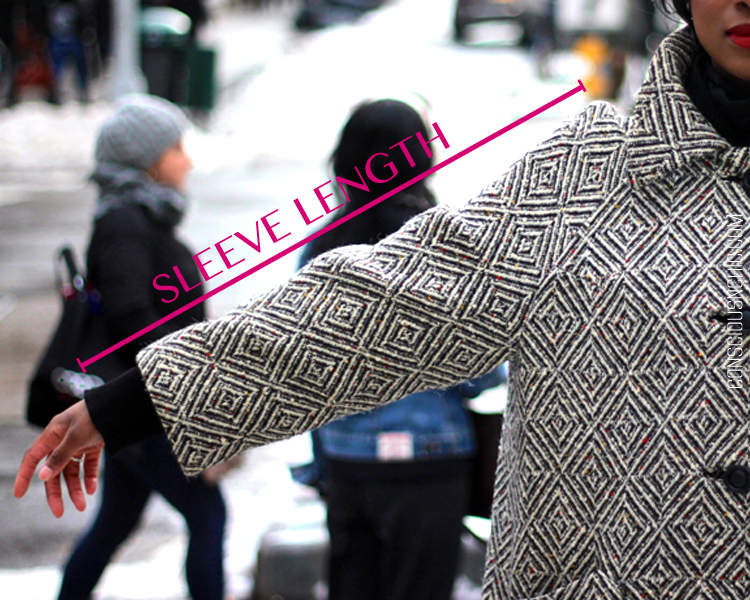 4. WAIST
Vintage coats have beautiful lines and offer unconventional silhouettes that you can have fun with. The A-line coat I am wearing looks great loose. For a modern twist on the vintage piece, I sometimes cinch it in with a contrasting belt.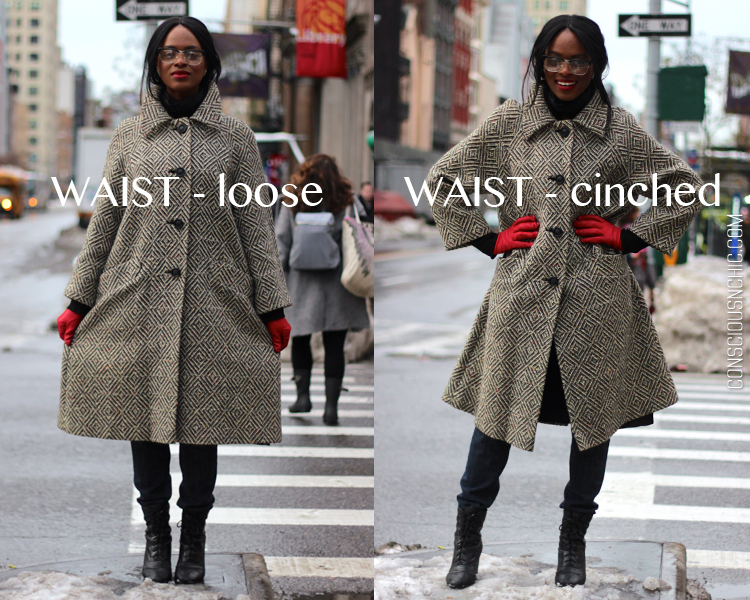 5. HEMLINE
As with every other piece of clothing, opt for a coat length that is flattering to your height and frame. If you are petite aim for a coat that hits you above the knees. If you are taller, like me, you can get away with longer hemlines.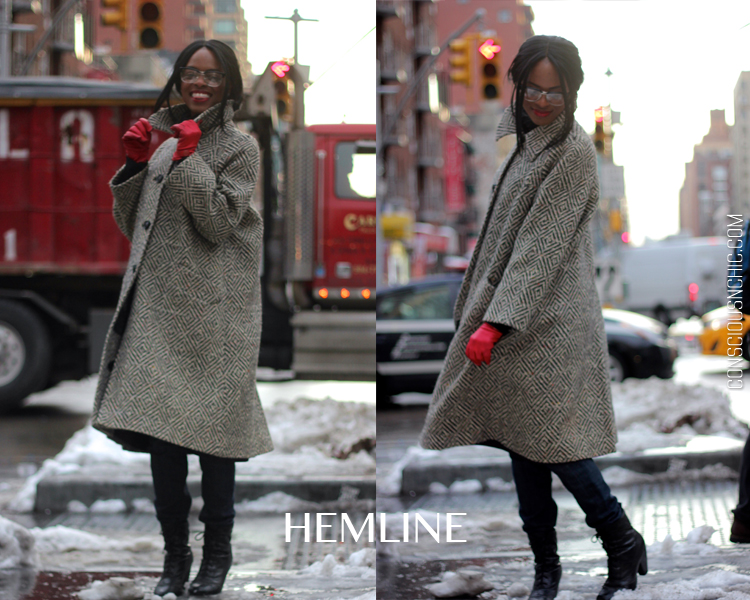 If any of the areas mentioned above are not a perfect fit, you can solicit the help of a tailor.
Photo credits: JonathanEarley.com.
Disclaimer: I haven't always shopped with a conscience so all the items featured in my lookbooks may not all reflect my new lifestyle but I'm not going to waste perfectly good clothes by not wearing them or throwing them away. That would not be very Conscious & Chic! Wouldn't you agree?
JOIN THE CONVERSATION: Which summer activity are you looking forward to the most?