BEAUTY REVIEW: BECCA Ultimate Coverage Complexion Crème Foundation
STATUS: COMPLETED
DISCLAIMER: I bought this product myself and am not reviewing this in exchange for payment.
PRODUCT DESCRIPTION: 
Ultimate coverage Complexion Crème: A long-wearing & surprisingly lightweight full coverage foundation.
PRODUCT PROMISES:
This foundation was  created with the perfect balance of water and pigment for maximum coverage in a weightless and breathable creme. It offers clinically proven 24hr coverage.
ABOUT THE BRAND:
Name: BECCA Cosmetics
Philosophy: 
"BECCA presents a highly curated selection of cosmetics that further reveal your natural beauty rather than covering it up. By matching your skin tone, you can create perfect looking skin while highlighting your favorite features and amplifying the look with a dramatic eye or bright lip when the mood strikes. Lightweight, luxurious and advanced, BECCA makes your entire beauty routine a more enjoyable experience while still performing all day."
Cruelty Free
Mostly Paraben Free with some exceptions
Gluten Free
Not "all natural"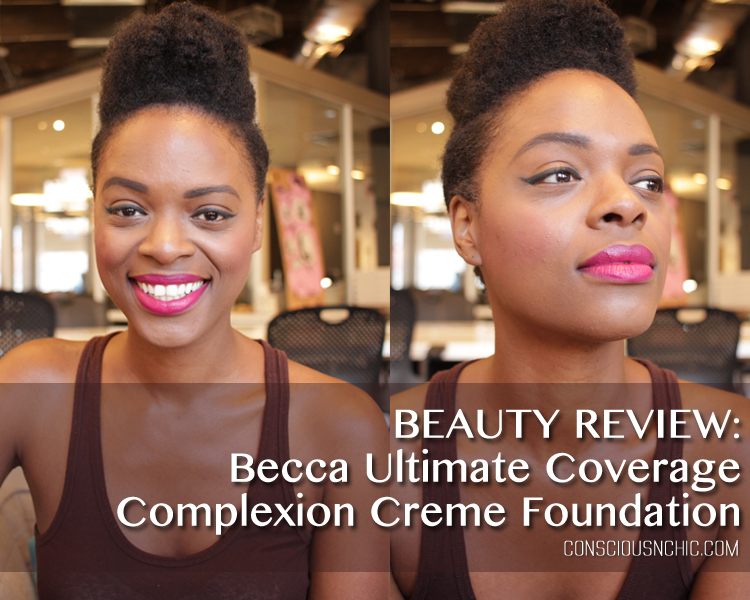 Photos are not edited. 
MY REVIEW: I've been using BECCA's Ultimate Coverage Complexion Creme Foundation for over 6 months. I have repurchased it since I first discovered it. I am somewhat noncommittal when it comes to the foundations I use so this means a lot. My shade: Tobacco.
Performance It is a full-coverage foundation but does not look cakey on the skin. The finish is smooth and still looks like my skin which makes it suitable for everyday wear. It is long lasting. Believe me, it doesn't move even in the humid climates we've experienced this summer.
Texture It's a liquid foundation and its consistency isn't unlike most liquid foundations. A little bit goes a long as the formula spreads easily and is very pigmented. One pump is all I need for my entire face.
Smell There isn't much to say about the smell.
Color-match I found my perfect shade (Tobacco) which always makes me happy. For the summer months, I mixed it with the Sienna shade and I was good to go.
How I use it:
In the morning, I apply my foundation on a clean face using a beauty blender sponge. After blending in my undereye concealer, I set my foundation and concealer with a setting powder using a disposable sponge. I focus on my undereye area and T-zone first.  Once those areas are taken care of, I powder my entire face with a powder brush using the same setting powder. When I use this technique I do not need to do any touchups throughout the day.
GIVE IT A TRY? YES, I'll give it a try! Ultimate Coverage Complexion Crème
If you are finding this beauty review of BECCA's Ultimate Coverage Complexion Crème helpful, comment below to let me know!