Beauty Review: Kneipp Lady's Mantle Face Mask - "Reactivation"
STATUS: Completed
DISCLAIMER: It was given to me to try.  I am not getting paid for this review. All opinions are honest and my own.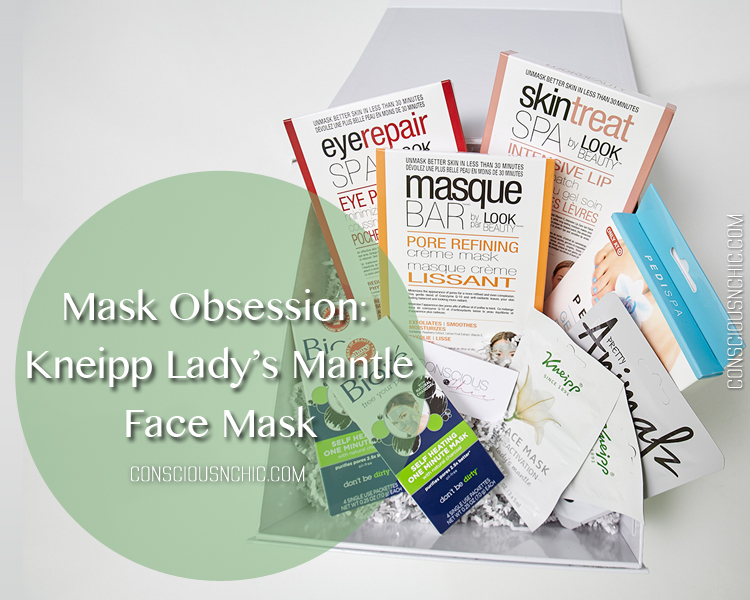 PRODUCT DESCRIPTION: The KNEIPP® LADY'S MANTLE FACE MASK – "REACTIVATION" – set of 2 – provides intensive care. With an instant effect the mask moisturizes and smoothes the skin. As a result the skin feels supple and vitalized and is visibly revived.
PRODUCT PROMISES:
This mask promises to moisturize and smooth skin, while revitalizing it. It is vegan. It doesn't contain any ingredients from animals. It is also paraffin, silicone and mineral oil free.
ABOUT THE BRAND:
Name: Kneipp
Philosophy: "Nature has provided us generously with everything we need to remain in good health."
Created in 1891, Kneipp founders Sebastian Kneipp and Leonhard Oberhäußer have believed in the power of natural beauty from the very beginning. To this day, every product is developed holistically and each formula is left in as natural a state as possible. They prioritize quality over speed and meticulously handle ingredients to insure their products work.
No animal testing is performed or contracted by Kneipp.
Kneipp is also a sustainability champion and holds multiple certificates (listed below) which are regularly verified by independent experts:
Certificates for product quality
Manufacturing authorization for medicinal products (Ochsenfurt-Hohestadt)
Manufacturing authorization for medicinal products (Heidingsfeld)
Food safety guarantee: FSSC 22000
Certificates for the area of biology and environmental protection
Environmental certificate: Green Brands
Eccocert quality certificate for natural cosmetics
MY REVIEW: I didn't know what to expect from this product, at first. It came in two packets which led me to believe it was a sample, not realizing that it was packaged this way on purpose. After just one use, however, I was able to look past the packaging. This mask has now become a staple in my healthy beauty skincare routine. It is that good! In addition, the packaging makes it easy to travel with which is a major plus!
Performance: I saw immediate results after using it for the first time. My skin was rejuvenated, smooth and glowing from within. I experienced the same benefits the second time around and every time after that. This mask really delivers.
Texture: The mask's white creamy consistency was easy to spread all over my face. A little bit went a long way. Although each packet was meant for one application, I could easily get two usages out of it.
Smell: floral and calming.
Skin type(s): recommended for all skin types and worked well on my combination skin.
How I use it:
I like to use this mask before I go to bed especially when my skin is feeling parched and looking dull. It could also be used in the morning but I am usually running out the door and do not have a minute to spare. So at night, I apply an even layer to clean skin avoiding my eyes and lips and let it do its thing for 10 – 15 minutes. I then, rinse it off with lukewarm water.
I follow the mask with fresh aloe, I keep an aloe leaf in my refrigerator, it is so refreshing and my skin loves it. I then apply my serum and moisturizer boosted with a drop of tea tree oil to keep my complexion blemish-free and off to bed I go!
Skin benefits of lady's mantle:
Lady's mantle is good to prevent aging of the skin. It is full of antioxidants which stop free radicals from ravaging your skin and its elasticity. It is also good to treat skin irritations like eczema, rashes, stings and bites.
GIVE IT A TRY? YES, I'll give it a try! Lady's Mantle Face Mask, Kneipp
If you found this beauty review of Kneipp's Lady's Mantle Face Mask helpful, comment below to let me know!