Beauty Review: Le Couvent Des Minimes' Loving Care Body Balm - Body Milk For Dry Skin
If you have dry skin, this post is for you!
Every so often as a lifestyle blogger you stumble upon a brand that surprises you. Le Couvent Des Minimes is one of those brands. I've been trying their products over the past few months and they've delivered beyond my expectations. Here is my review of their Loving Care Body Balm – Body Milk for Dry Skin.
STATUS: Completed.
DISCLAIMER: It was given to me to try.  I am not getting paid for this review. All opinions are honest and my own.
THE CONSCIOUS: Centuries in the making. 
Le Couvent Des Minimes is a French skincare brand with multiple products catering to dry skin like mine. The products ranging from face and body care to fragrances, are developed following ancient recipes using plant-based ingredients found at Le Couvent Des Minimes de Mane in France. Each product is carefully crafted echoing a time when beauty and wellness were achieved through the use of plants.
The packaging is simple and illustrates the simplicity of the time of the convent's inception in the early 1600's. Note that it wasn't until 2004 that the French skincare brand was created and the convent transformed into a hotel & spa. You can find out more about the convent's history here.
Le Couvent Des Minimes also believes in giving back. In 2016, they donated 1% of their sales to the work of The Franciscan Missionaries of Mary's work around the world. By doing so they've helped support a School of Nursing for disadvantaged young women and a kindergarten in Tiruchirappalli, India (2011 / 2012) as well as a Conviviality Center for elderly people in Taubaté, Brazil (2013).
THE CHIC: Simplicity is key. 
As you know, whenever I receive new packages from brands, I open them on camera and publish an Unboxing Insta Story. I like sharing this moment with you and giving you a sneak preview of what I will be incorporating into my closet or beauty regimen. In the case of The Loving Care Body Balm – Body Milk, however, I have a confession to make. I cheated and started using it as soon as I saw the box. I simply couldn't wait for the unboxing video. You see, I first tried the product at a pr event and fell in love with how soft my hands felt. I was also fond of the clean and soothing smell and the texture of the milk. It is now one of my favorite moisturizers to date.
How I use it
In case you are not familiar with my skin types, I have acne-prone combination skin on my face and dry skin everywhere else. Using lotion is necessary for me even in the hot summer months. I massage the body milk all over my body as soon as I get out of the shower. I do not use it on my face because it is too heavy for my combination skin.
I appreciate how simple, natural yet efficient Le Couvent Des Minimes' products are. They do not make lofty promises they can't keep but deliver on the ones they do make. Each recipe is tested by dermatologists to insure the quality and safety of the products. Needless to say that I will be lathering up on the Loving Care Body Balm – Body Milk all winter long.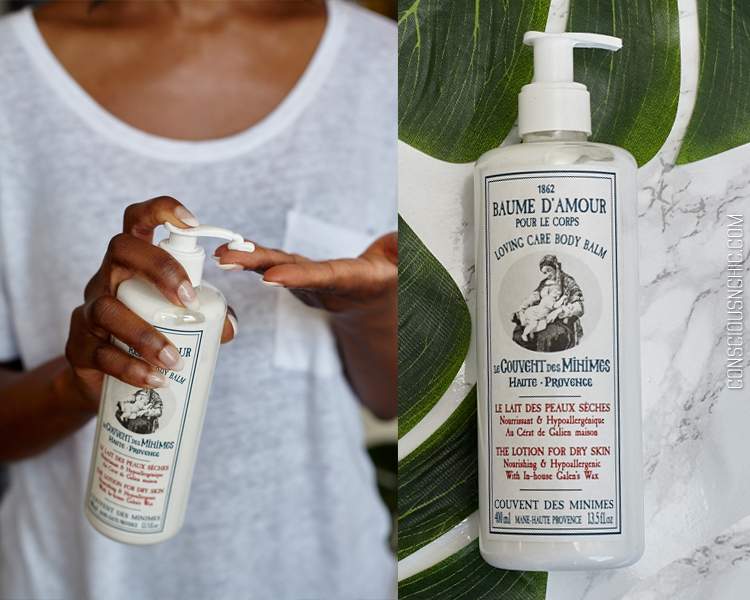 Product Description: rich hypoallergenic formula that helps soften and comfort dry skin.
Product Promises: Soften and comfort dry and sensitive skin while hydrating and nourishing it. 
About the Brand:
Name: Le Couvent Des Minimes
Philosophy: Le Couvent des Minimes offers natural skincare recipes that cover daily needs which provide simple skincare solutions in lush fragrances and beautiful textures. We blend traditional, time-proven, natural ingredients focusing on what is necessary for best results.
Discover our beautiful brand with our discovery kits.
REVIEW CRITERIA
Performance: it moisturizes without leaving my skin greasy. Skin feels smooth and has a healthy glow. Perfect for dry skin types.
Scent: smell is clean and soothing.
Ingredients: it is formulated with natural ingredients and is hypoallergenic.
Based on my experience with The Loving Care Body Balm – Body Milk for Dry Skin, I look forward to trying more products by Le Couvent Des Minimes in the near future.
GIVE IT A TRY? YES, I'll give it a try! Le Couvent Des Minimes, The Loving Care Body Balm – Body Milk for Dry Skin.

Photo Credits: Ashley Adele Photo.