"Live your life in a way that adds to others." – Matthew Griffin, Co-Founder of Combat Flip Flops. 

As you may or may not know, this week is my birthday week and instead of receiving I want to give!!! So for the month of February I've partnered with some fabulous Conscious & Chic brands to spread birthday love to you with fun giveaways. You already know about Columbian Girl.
Now, meet Combat Flip Flops!
Combat Flip Flops was created in January 2012 by Matthew Griffin, Andrew Sewrey and Donald Lee to help keep a combat boot factory in Ka-bul, Afghanistan working. Griffin, also known as Griff, was touring the facility during a trip with Remote Medical International and noticed a worker wearing a makeshift pair of flip flops using the sole of a combat boot. "With the eminent decline in military contract work, we thought supplemental flip flop production would help offset that decline." said Griff. So they started with three men's styles: The AK-47s, Poseidons, and Tuck Tucks but they didn't stop there. Since then, their mission has grown to include jewelry made from unexploded ordnance dropped on Laos during the Vietnam war, flip flops in Colombia, sarongs and shemaghs made at a woman-owned facility in Afghanistan and messenger bags made in the US.
Combat Flip Flops' "weapons for change" are designed with everybody in mind. At first, their customer was somebody with a .mil, .gov, .US email address or someone related to a deployed service member. This was encouraging to Combat Flip Flops because they felt that the mission was being validated by those who "have been there and done that" – fellow service members who saw the hardships of the local nationals, understood how beneficial this could be and decided to support Combat Flip Flops.
"Now, the brand is finally able to meet the demand and looking to spread the word among men, women, young, old-all that are open to working together to acco
mplish the mission." said Griff.
THE GIVEAWAY: The Gunner Shemagh (scarf)
Description: Hand embroidered in a woman owned factory in Kabul, The Gunner Shemagh is the new standard for a "man scarf." This natural cotton shemagh is wrapped in belt fed goodness. TSA compliant. For each Gunner sold, Combat Flip Flops donates funds to put an Afghan woman in school for a week. Look Bad Ass. Be Bad Ass. Do Bad Ass Things. $65 Value.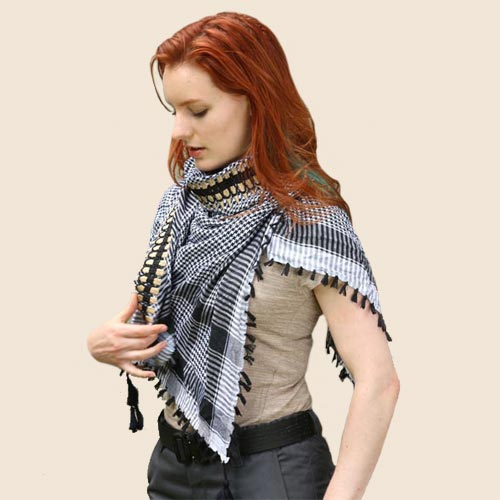 HOW TO ENTER  |  Entering this giveaway is really easy all you have to do is:
1. Follow @ConsciousAndChic on Instagram and look out for additional entry opportunities.
2. Be 18 years or older.
3. Live in the Continental United States.
4. Giveaway is open until: February 28, 11:59pm PST. Winner will be announced: March 1, 2015.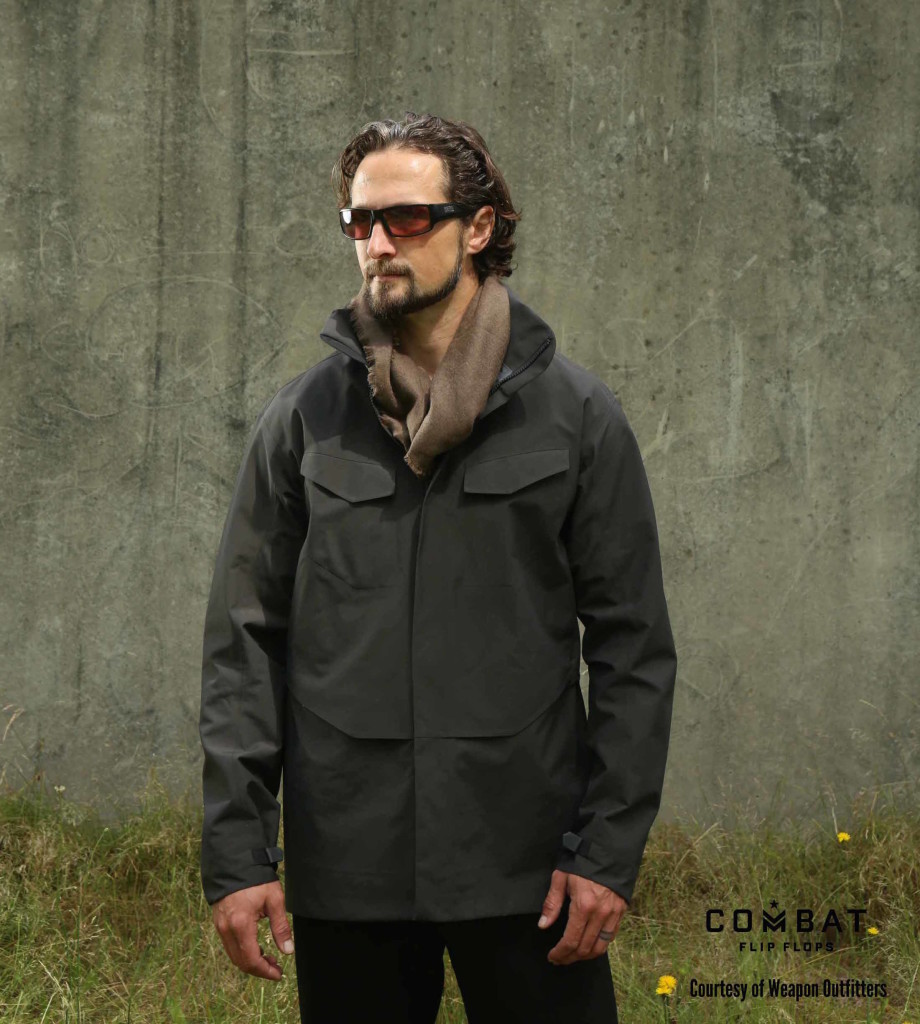 I had the pleasure of interviewing one of the founding members of Combat Flip Flops, German born American Matthew 'Griff' Griffin. He was born in Weisbaden, Germany, then moved back to the U.S. and grew up in Iowa.  He graduated with a BS in Engineering Management and a minor in Civil Engineering from the United States Military Academy at West Point, NY.  He was deployed four times between 2003-2005 to include 3 tours to Afghanistan and 1 to Iraq.
F.W.A.C.: What is the heart behind the brand?
M.G.: There is no heart behind the brand–there are hearts. This company consists of people that work every day to make this dream a reality. From the three owners who took a big chance on producing flip flops in a war zone, to the veterans we employ, to the retailers who supported us from the beginning, to the customers who believe in our vision, our products are the result of groups of people creating, working, and believing–we create positive change in the face of conflict.
F.W.A.C.:  Why do you produce your goods with a sense of social responsibility the way you do?
M.G.: Small manufacturing operations are the easiest businesses to start in developing nations. The skills required to make a textile product are easy to train, manage, and grow compared to technology, arts, or finance. In our experience, manufacturing jobs have the ability to support a great deal of people with a minimal relative investment. If we are able to make that investment and regularly employ an individual to support a family, then the entire family does better. Then the country does better. Then we are all better.
We KNOW it's possible to help the communities in which we work because we've seen it done before. The boot factory in Kabul employed 300 workers. Each worker supported 5 to 13 family members. The math states that the factory supported 1500 to 3900 people – making products for war. Do you think we could do the same for non-war related products? We know we can.
Vietnam and the U.S. were at war 50 years ago. Now Vietnam is the 4th largest footwear producer in the world and #2 producer of coffee. If industrialists made the change in Vietnam over the past half century, why can't we do the same in Afghanistan, Colombia, Iraq, Syria and other conflict areas around the world?
F.W.A.C.: What is the role of women in war-stricken countries?
M.G.: They are the constant. They are the ones that often become widows and are forced to raise the next generation. If a widowed mother is not educated, there will be two generations unable to free themselves from a lack of education and poverty.
If you want to end conflict, educate women. If you educate a mother, you educate a family. Educated women will educate their children. Educated children are not easily swayed to radicalism because they can think on their own. Seems too simple, doesn't it?
F.W.A.C.: What would you say to someone who would like to follow in your footsteps?
M.G.: This is a hard life. Take your beatings. Learn. Battle back. Repeat. It's worth it. PS: Maintain your sense of humor along the way.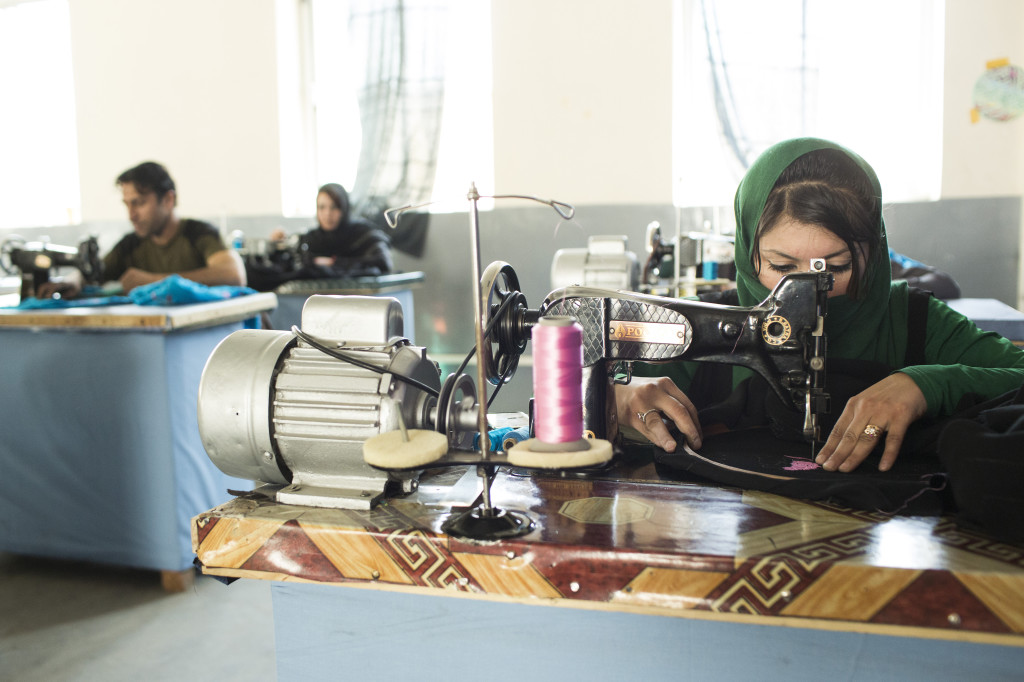 Griff's thoughts on:
1. Peace… When we change our thinking from, "Us and Them," to, "We," peace will be achieved.
2. Empowerment… Every person should be empowered to lead a positive life free from persecution, add value to others, have a meaningful relationship with God.
3. International business… Whether it's across town or on the other side of the world, businesses spread ideas, arts, and culture.
4. Poverty… If we can provide basic education, I believe we can solve the basic challenges creating poverty.
6. Consumerism… It is not necessary or sustainable.
7. Your purpose in life… Leave this place better than I found it.
Now that you know EVERYTHING about this fabulous brand:
1. check out their 

website

,