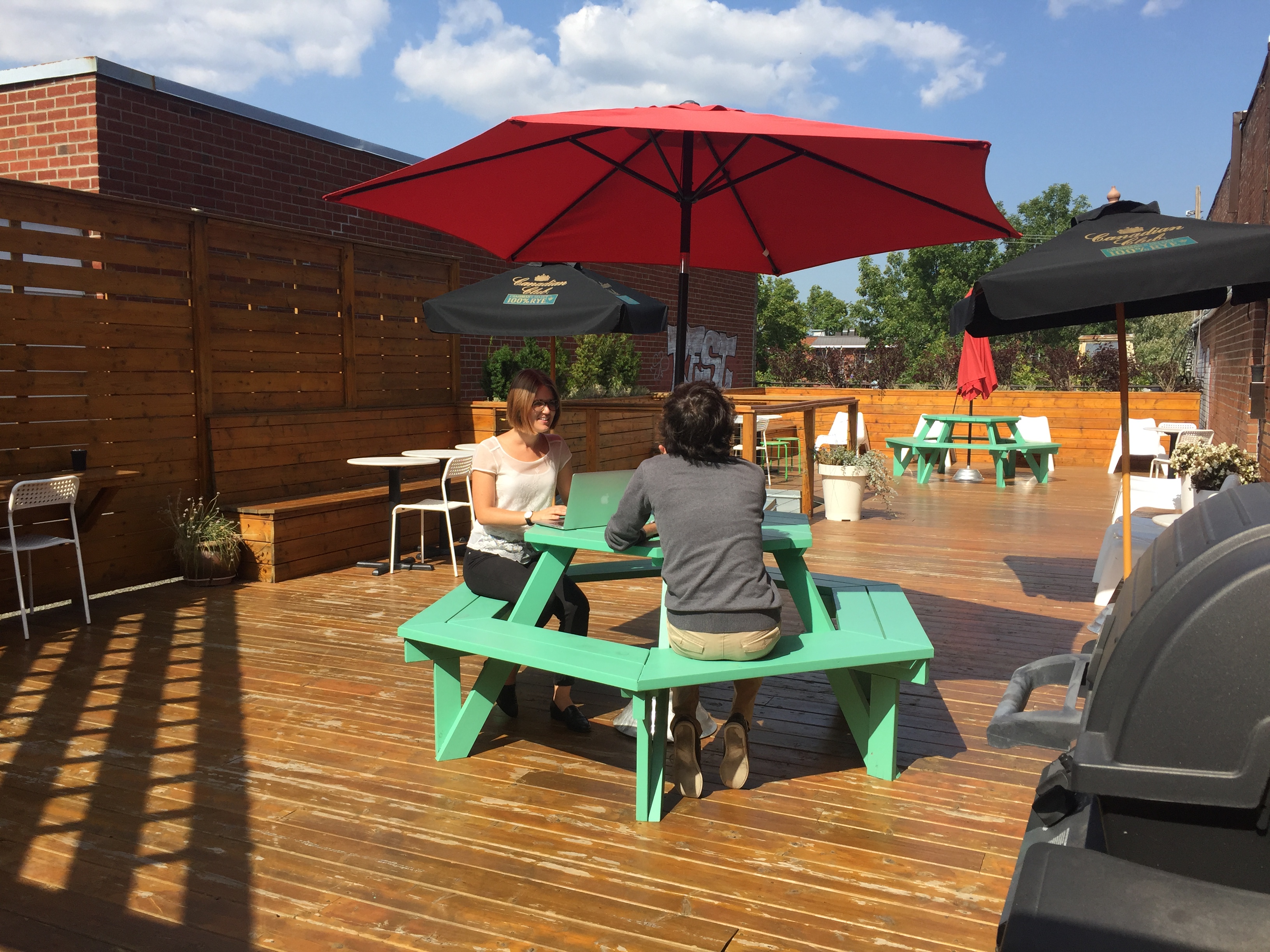 The rise of the gig economy including content creation, freelancing and influencer-driven business has ripened the market for a new business opportunity called co-working. If you are not familiar with the term co-working, it is: "the use of an office or other working environment by people who are self-employed or working for different employers, typically so as to share equipment, ideas, and knowledge." – Dictionnary
Olivier Berthiaume and Philippe Tremblay are two entrepreneurs who decided to capitalize on this opportunity by launching Halte 24-7, a co-working space in the heart of their hometown, Montreal.
As a content creator, I've worked from multiple coffee shops until I discovered the wonderful world of co-working, a few years ago. I love working in creative environments like Halte 24-7 surrounded by Girl (and Boy) Bosses doing their own thing and challenging the status quo. This co-working space offers a variety of amenities including a rooftop and is well located in the hip Plateau Mont-Royal neighborhood.
If you are an entrepreneur trying to navigate the co-working world, this post is for you. I hope it helps you answer this question: When do I know I am ready to move from my couch or favorite cafe to an office or co-working space?
1. You mean business – this is not a hobby.
Transitioning from working from home or the nearest coffee shop requires you to not only switch physical spaces, but also switch mental spaces. Allow me to explain. Being busy building a brand does not mean you have a business. The amount of time it requires doesn't matter, the reality is, you might just have a really time consuming hobby. In order to invest in a co-working space, you must move from hobbyist to entrepreneur in your head, first. Taking yourself and what you are doing seriously is what will enable you to financially invest in your success. Once you make that move, potential clients will take notice and be increasingly willing to pay you for your services or products. You will be able to host meetings and run conference calls from real meeting rooms instead of Starbucks. There is nothing wrong with Starbucks. It is a great place to start but you don't want to stay there. You want to grow. Paying for this space will also remind you that building your company is a commitment you are making to reaching your goals and to serving others through what you have to offer.
2. You want to network.
I'm a people person. Therefore, one of the first things I look for in a co-working space besides the quality of the WiFi and coffee, is the quality of the community. Before signing on, I'll try to gage whether this work environment encourages organic and planned networking. Collaboration and communication are high values for me, let alone the fact that I'm an extrovert which means I draw energy from relating to others. As fun as it may seem to create content, it is often a job that needs to be done solo. When I'm writing blogs, as I am right now, I have to focus. The same applies when editing audio clips and videos, therefore I look for ways and create opportunities to partner with others so that I can remain energized.
Lastly, at the risk of stating the obvious, networking can catapult your profits from red to black. Entrepreneurs, the good kind, are eager to connect people, share resources and give referrals to their networks. That network can turn into a goldmine very quickly if you seek it out and are both genuine and generous.
Tremblay and Berthiaume are very intentional about providing cool events to their members such a as lobster dinners, conferences and masterminds.
3. Your home is distraction central.
Separating your home life from your work life can boost your productivity. Most people need structure in order to get things done. Of course, there are people who can easily drown out noise and be productive in any working conditions. The world could crumble around them and they would remain unbothered. They have this incredible ability to zero-in on their tasks and carry them out to completion.  I'll be transparent and let you know that I don't like working from home, most days. Of course there are the exceptional ones when being at home or at the office doesn't make a difference but they are not the norm. Sometimes when I'm home trying to check things off my to do list, everything will come together to distract me. All of a sudden, the dishes need to be washed, the laundry has to be done, shows I didn't even know existed must be watched and the list goes on and on. That is why I decided a long time ago, although I do have a home office, to work outside of my abode unless I'm shooting or absolutely have to for some other reason.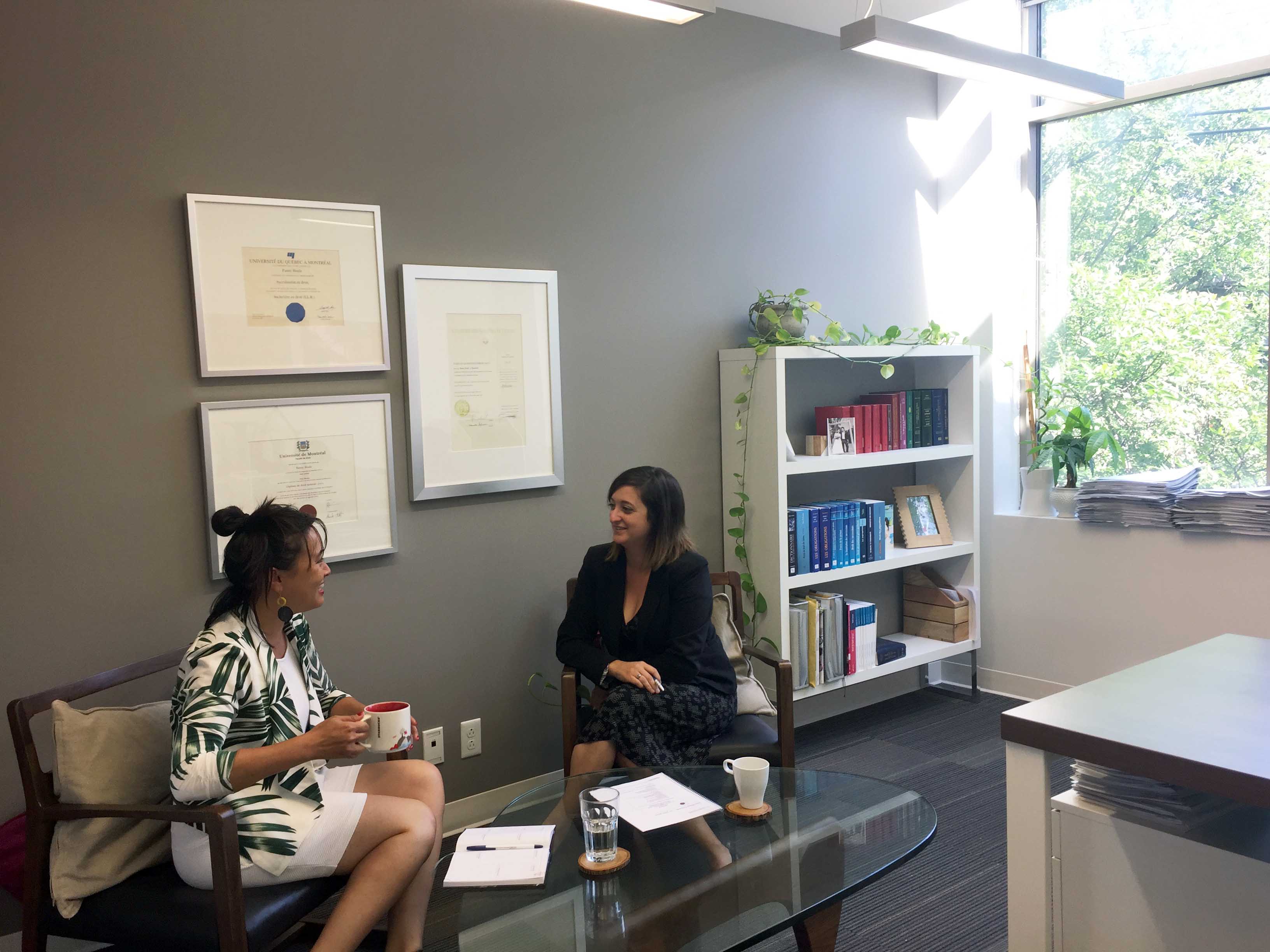 4. You can benefit from the change of pace & space.
I've visited multiple co-working spaces and many of them left me underwhelmed to say the least. That is why I decided to write this article and introduce you to a space I can personally vouch for. Halte 24-7 understands that working from 9am to 5pm is not ideal for everyone which is why they offer members 24/7 access, hence the name. Not to mention that a lot of people work better at nighttime. The freedom to create their own schedules is something our parents could only hope for in their wildest dreams.
In addition, Halte 24-7 offers what I consider to be basic amenities such as a microwave, clean bathrooms and quality coffee. Nothing will send me running out of a co-working space faster than bad coffee. This is my thought process: if you can't get coffee right, it's only going to be downhill from there. Halte 24-7 has great coffee, which is provided by one of their users, Jean-Nicolas Papillon from Café Liégeois. I love that they've given one of their clients the opportunity to contribute to the co-working space with their products.
Lastly, since the environment you work in can get your creative juices flowing or usher you into a long season of writer's block, choose wisely.  Determine what the ideal space would be for you and look for it.
Halte 24-7 Amenities 
Access to the center from 8h30 to 17h00 (24/7 access is optionnal)
Receptionnist service between 8h30 and 17h00
8 hours of access to a conference room monthly
Access to the business lounge
Access to the business terrasse
Access to the showers
Access to the kitchen and the various coffee machines
Electricity and heating
Business taxes
High speed internet (wifi and ethernet connexion)
Cleaning service in the open areas
Surveillance cameras and alarm system in the common areas
Able to lock your office
Postal service
Workspace including a table, an ergonomic chair, a cabinet, a lamp and a garbage/recycling bin.
5. You are (or will be) able earn what you are spending!
As they say: time is money. This is especially true when you are your own boss. You alone are responsible for motivating yourself and creating the opportunities you want which in turn will lead you to the earnings you desire. When it comes to spending those earnings on an office space you have to ask yourself: will this new environment help me reach my goals faster, hence potentially pay for itself in the long term? Because the reality is, if working from home has you running in circles and going nowhere fast you should get out of there stat. As for those of you who work out of coffee shops you should track the amount of money you spend on coffee, pastries and food. If you budget it all you might surprise yourself and soon realize that if you were to brown bag it, you could afford a co-working space. Memberships at Halte 24-7 start at $30/day for professionals who want to use the open space, $399/ month for dedicated desks and $679 /month for private offices.*
*Prices are in Canadian dollars. More details on pricing here.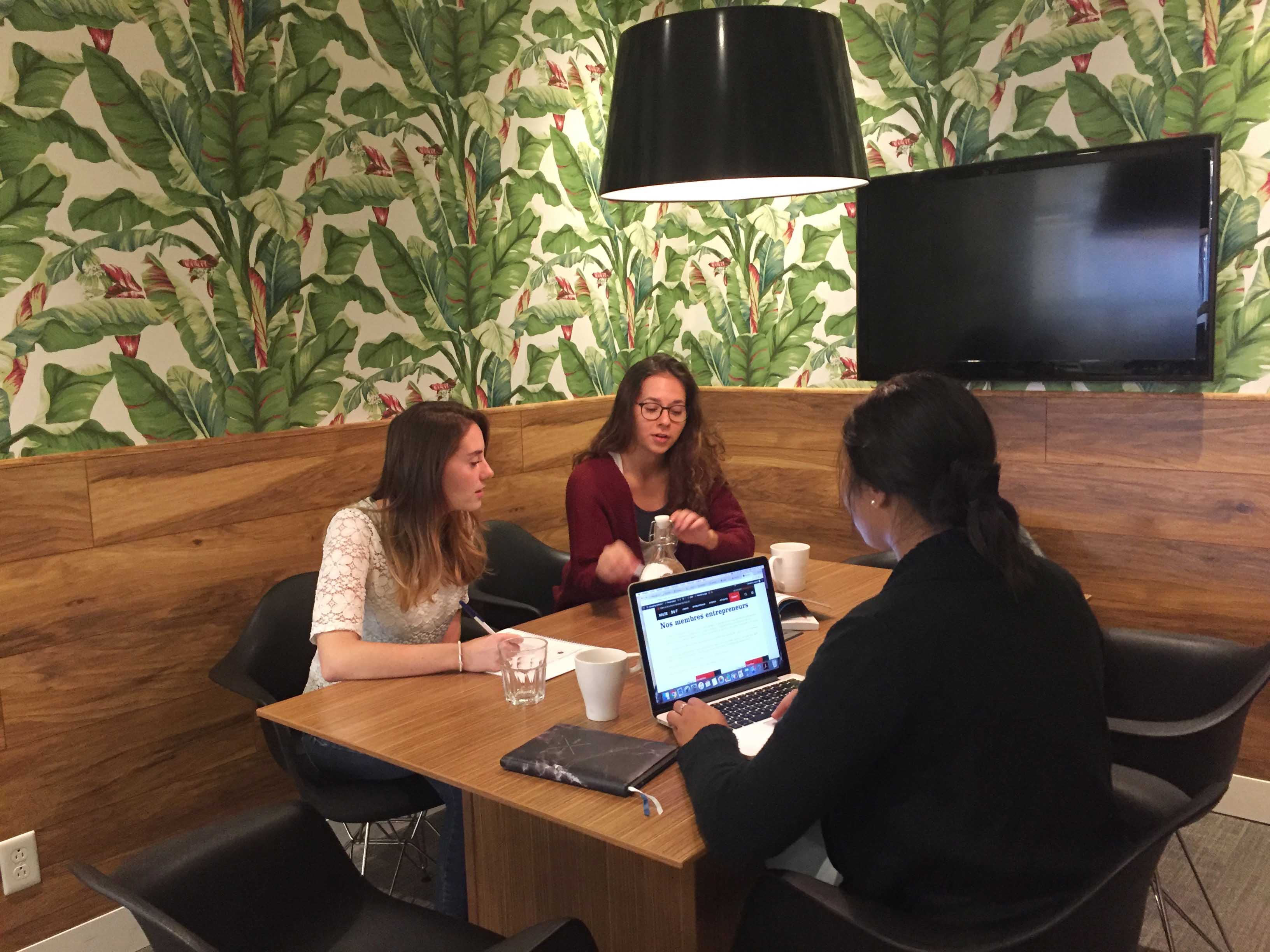 When Berthiaume and Tremblay decided to launch Halte 24-7 their goal was to create the co-working space they wanted to work in: quirky, spacious and with a rooftop! #GOALS
The 4-level building was designed by Tremblay's wife, Caroline Comtois, an interior designer who also needed a workspace. She is in fact responsible for the inception of this project.
"Caroline was looking for a design co-working in Montreal and she wasn't really finding anything that was satisfying her. She introduced us with the concept of co-working and we glanced at some places that were awesomely nice in Berlin, Paris, Tokyo and Barcelona. We did a business plan and found a nice building that could accommodate everything that was in the plan. We renovated for 5 months and we opened up." – Olivier Berthiaume. 
The bottom line is: if having an office will help you focus on creating your best work, building your network and make a living doing what you love, it's definitely a great investment in YOU!
If you are a local or visiting Montreal, you should definitely stop by Halte 24-7, as well as the below recommendations from Berthiaume.
Best coffee?​ Café Paquebot​ or Café Névé.
Must eat (specific foods)?​ Schwartz smoked meat, Romados Portugese chicken and Fairmount bagels.
Best poutine?​ Frite Alors.​
Best restaurant?​ ​Liverpool House!
Favorite neighborhood?​ Mile End.​
Where to shop?​ Lots of small boutiques on St-Laurent Street. ​
Tourist attractions? ​Music Festivals: Picnik Electronic and Osheaga. Lots of nice parks including the top of Mt-Royal.​
If you have any questions, feel free to reach out to me on social media: Instagram or Facebook or Twitter.

Photos courtesy of Halte 24-7.