IT WON'T BE EASY, BUT IT WILL BE FUN AND TOTALLY WORTH IT! 
When it comes to contributors, Conscious & Chic wants la crème de la crème only! If you have a unique vantage point to share, write killer blog posts and have a great personality, I'd love to talk to you.
THE PROCESS
Given that this blog is not your typical fashion and beauty blog, be sure to review the site so you understand the theme and style before sending your submission.
I receive a high volume of submissions every day so be sure to follow our submission guidelines to speed up the process for you and I. Ideally, I want to publish your post (if it's approved), 10 days after you've submitted it depending on my editorial calendar. I will inform you whether your post is published or not. Conscious & Chic reserves the right to edit posts to fit the style, attention to detail and to protect the trust of our readers.
Your content must be exclusive! Don't submit posts that have already been published on a blog or any other media outlets.
Not sure what to write about or if your idea is a good fit? Let's brainstorm together: contribute@consciousnchic.com
If you are a brand and wish to advertise your products or services through a blog post, send your submission to advertise@consciousnchic.com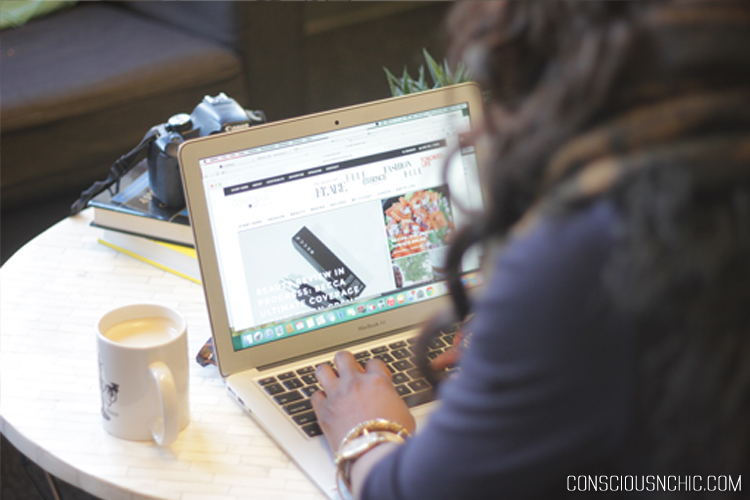 GUIDELINES – Follow the order below when sending your submissions.
TOPICS: All things ethical living in fashion, beauty, travel, food and tech: natural, eco-friendly, green, vintage, thrifted, fair-trade, charitable, healthy or local. (Specify the topic (s) at the top of your submission). I require that your blog fall under at least one of the above categories.
LENGTH: 500 – 1000 words. Include your article directly in the body of the email. Do not attach it as a separate document.
IMAGES: High quality and original images only. Do not submit stock photography or pictures that may be infringing on someone else's intellectual property. Submit one photo minimum for each 200 words.
Format: .jpg or .png
Featured image Size: 750px X 500px
Body images sizes: 750px X 500px or 750px X 186px
Sourcing / Credits: Specify the copyright / credits for each photo (Name of photographer and Website Link, if applicable)
BIO: Short paragraph about yourself. 50-75 words.
PROFILE PHOTO: Headshot of yourself at your best. But keep it cool and reflective of your unique personality. Send 3 options.
SOCIAL MEDIA: Provide handles and direct links to your social media platforms.
CROSS PROMOTION: In addition to post guidelines, you will also be provided with social media promotion requirements as the goal is to raise brand awareness for all parties involved.
AFFILIATE & OTHER LINKS: Linking to your website is highly recommended, however mentioning or linking to advertisers and affiliates is not an option out of respect for our C&C advertising partnerships.
CONTRIBUTOR STATUS!!! 
After submitting 15 successful posts, you could be approached to become a C&C Contributor. If you want to remain a C&C Guest Writer only however, please let me know.
Send all submissions to: contribute@consciousnchic.com
I look forward to reading you!