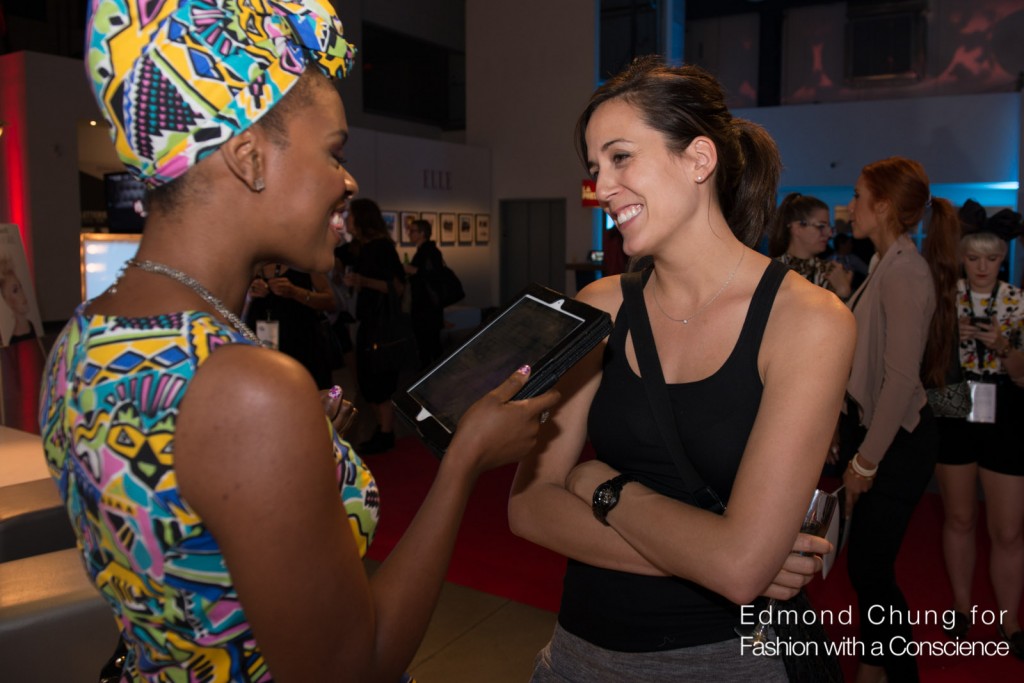 Pictured: Melissa Nepton and I Â – MFW interview.
Montreal fashion week took over L'Arsenal yesterday with 6 fashion shows, 14 makeup artists, Â 14 hairstylists, a star-studded cocktail, a 100 foot long runway and even more fashion critics, addicts and victims.
PEDRAM KARIMI
The fashion frenzy was kicked off by Pedram Karimi. Karimi is best known for his minimalistic approach to design and futuristic flair. He presented a collection of separates, dresses and jumpsuits faithful to the Karimi aesthetic.
MUSE by Christian Chenail
Then, MUSE by Christian Chenail made a clear ode to the 1950's and old Hollywood. From the makeup and hair to the collection Chenail took us on a journey back to this era.
BODYBAG by Jude
Before the BODYBAG by Jude 15 years anniversary show, I got into a little girl chat with Genevieve Borne which I love to talk to. She has been wearing  BODYBAG for over 20 years and  gave me the inside scoop on the label's history and design style. I also interviewed the designer after the show and can't wait to share it with you.
DINH BÀ
Another milestone anniversary made its way to the catwalk with Dinh BÃ 's 10 years anniversary fashion show. BÃ  went all out and presented a collection of intricate pieces as well as really simple ones. I think he could have shown less but it's his anniversary so all is forgiven.
MELISSA NEPTON
Melissa Nepton is one of my favorite Montreal designers. I discovered Nepton's effortless chic style last season. She was pregnant at the time yet didn't let her growing belly get in her way. This season Nepton delivered the same level of quality and style even with a newborn daughter which I was happy to meet. Her secret? "I have a great team," she said during our one on one interview.
UNTTLD
In closing, the designer duo from UNTTLD created a collection inspired by smoke. This was made evident in their choice of prints. I appreciated the fine tailoring of their ready-to-wear pieces and sexy silhouettes of their evening wear. This collection is perfect for the woman who works hard but plays harder.
Stay tuned for more in-depth reviews and interviews.
Stay Conscious + Chic!

PS:Â Follow me and Montreal Fashion Week: Facebook | Twitter | Instagram | Pinterest