Photo courtesy of World Master Card Fashion Week 
Bright lights. Big city.
"The better you look the more you see." – Christopher Bates
I don't normally favor menswear collections but designer Christopher Bates is definitely one to watch. He is a true perfectionist and his attention to detail is to be admired. "I think the attention to detail is something that guys really gravitate toward, especially details that have form and function. If you can find things like that, it's clever, and that's the signature I want to infuse into every piece." said Bates during our one-on-one backstage interview. [See backstage photos] 
Bates Fall 2013 collection was strong in tailoring: Â bow ties, gray tailored suits and thigh-length coats. The collection also featured more casual pieces such as dark wash denim, white and red button down shirt and suspenders. Â I especially loved the show stopper which had a white buttoned-down shirt with a kiss smacked on the collar.
The Christopher Bates man is someone who admires characters like James Bond, and wants to be a little bit like him in his day-to-day life and especially when he goes out. So his clothes are obviously geared towards evening, going out, dressing-to-impress and special occasions.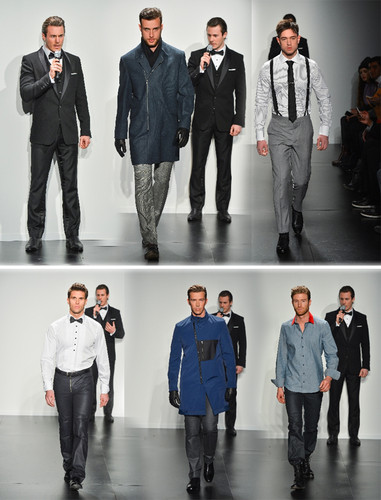 Photo credits: George Pimentel. Getty Images.
When asked about his cause of choice he said without any hesitation: " The Jade Bell Foundation. Jade abused some really bad drugs when he was young; they fried his brain and left him paralyzed. "  Now, Bell uses his experience with substance abuse to empower kids and encourage them to stay away from drugs.
This renaissance man is only at the cusp of his success and we cannot wait to see what comes next.
For more Toronto Fashion Week coverage and Backstage Chronicles, follow me: Twitter / Facebook / Instagram / Pinterest.