For most, self-care is a buzzword. For me, it's a responsibility that I take very seriously. Life comes at you from all angles and before you know it, you are a walking ball of stress ready to explode. To avoid this being the case for you, I recommend you make taking a day off a priority. My self-care day changes between Saturday and Sunday depending on my other commitments. I am flexible but not too flexible with the day because I don't want taking a self-care day to become another source of stress. That would defy the purpose, right? I curated this gift guide for self-care aficionados and people who could use a little more TLC!
For your convenience, I've summarized my experience with each brand, included Black Friday sales details, Coupon Codes and upcoming Conscious & Chic Instagram Giveaways, where applicable.
Happy shopping!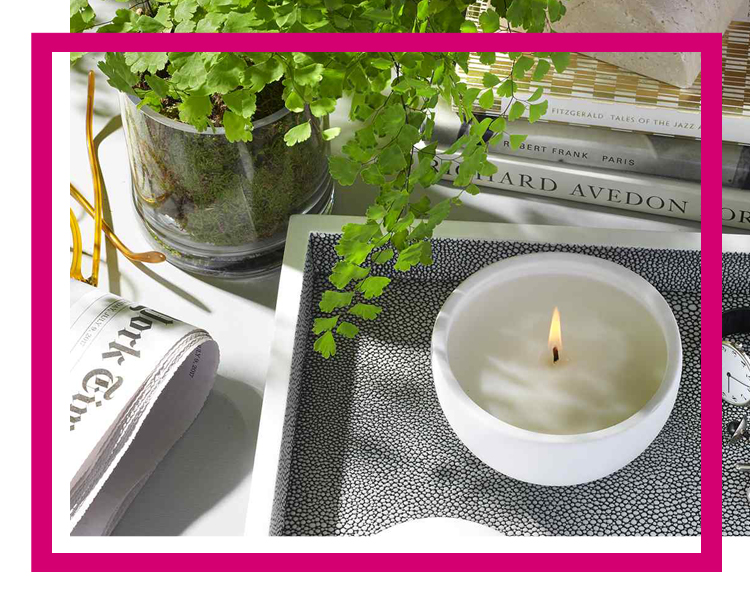 1. PHLUR CANDLES | Shop now! 
About the brand
Phlur has taken the conscious living world by storm this year. From the moment I was introduced to the brand, up until now they have grown so much and for good reason. Their products are stellar. They started with superior quality unisex fragrances which are sustainable, cruelty-free and free of skin allergens, parabens, phthalates, unnecessary stabilizers and animal products. Out of the 6 scents they carry, I personally tried the Hanami and Moab scents and they smell so good. Phlur more recently launched a line of candles to accompany the fragrances. The 3 scents they launched are Howl, Claremont and Annica. I have the Claremont candle which features notes of shiso leaf, white ginger, orange flower and maté. Phlur's dedication to creating quality perfumes and candles in chic packaging makes them the perfect Christmas gift.
Want to dig deeper? Check out the previous blog post I wrote about Phlur:
BEAUTY REVIEW: PHLUR SUSTAINABLE FRAGRANCES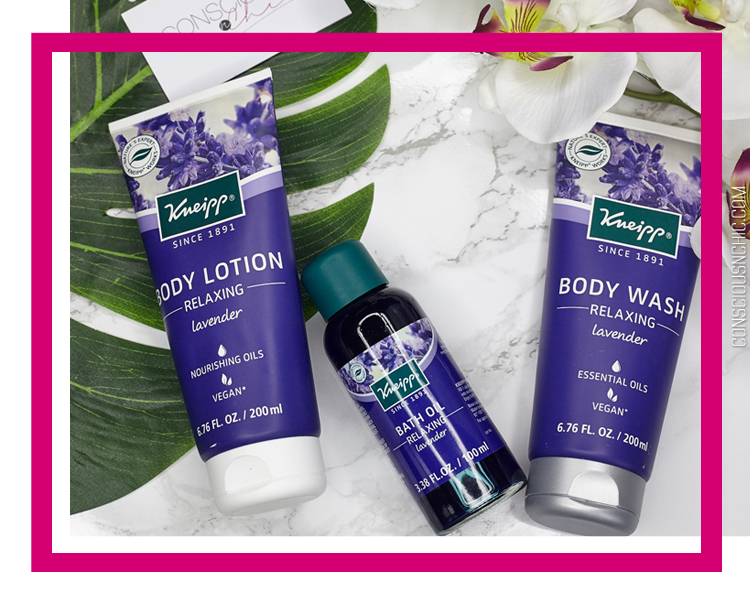 2. KNEIPP BODY | Shop now!
It's no secret, Kneipp is one of my favorite natural skincare brands. I love their skincare and body care lines. I've used their body washes, body lotions, bath oils and bubble baths. For self-care, I am obsessed with their Lavender and Eucalyptus lines. The lavender line is perfect to relax and unwind after a long day while the eucalyptus line is ideal for the colder months as we are more prone to being under the weather. No self-respecting self-care routine would be complete without a face mask, I recommend Kneipp's Lady's Mantle Reactivation Mask. Pampering yourself and those you love has never been easier!
Black Friday sale: Black Friday – Cyber Monday.
Everything in store and online is under $15, excluding gift sets
Purchase a Family Loyalty Card, you get an additional 5% off.
Free Shipping all weekend long!
Want to dig deeper? Check out the previous blog posts I wrote about Kneipp:
LADY'S MANTLE MASK – REACTIVATION
Giveaway alert! I will be hosting an Instagram giveaway with Kneipp so stay tuned!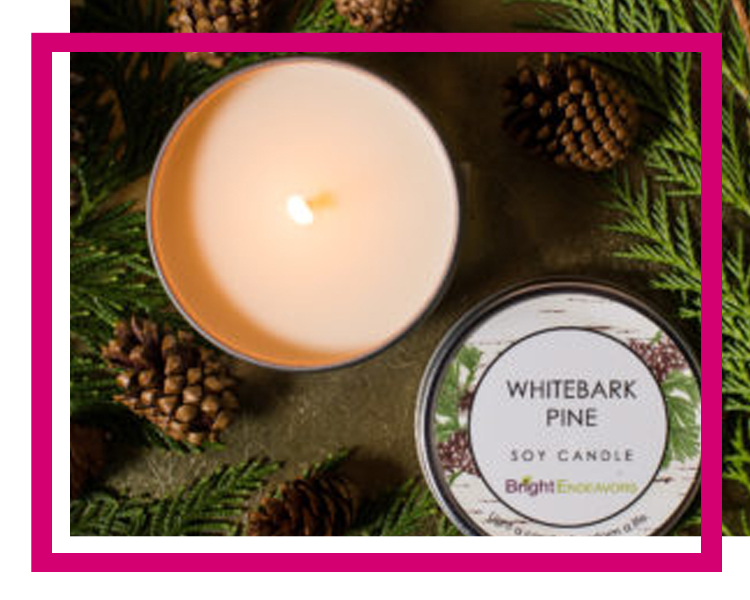 3. BRIGHT ENDEAVORS | Use CONSCIOUSNCHIC25 for 25% off on orders of $50 or more | Shop now!
About the brand
Since one can never have too many candles I am adding another candle recommendation to this gift guide. This candle company is special because it not only produces high quality soy candles but does so to empower young mothers. Bright Endeavors provides a pathway out of poverty for adolescent moms in Chicago through their job training program which includes 5 weeks of in class training and 8 weeks of hands on training making soy candles.
Bright Endeavors has served over 300 moms and 500 children.  That's 300 families empowered and equipped for a better future.
The candles come in six year-round scents and six seasonal scents. My favorites are Black Currant Orchid, Lemon Tea, Lavender Sprig and the newly released Almond Berry Galette for the holidays. You can't go wrong with Bright Endeavors' individual candles or gift sets.
Want to dig deeper? Check out the previous blog post I wrote about Bright Endeavors:
GIFTS THAT GIVE BACK: BRIGHT ENDEAVORS
Giveaway alert! I will be hosting an Instagram giveaway with Bright Endeavors so stay tuned!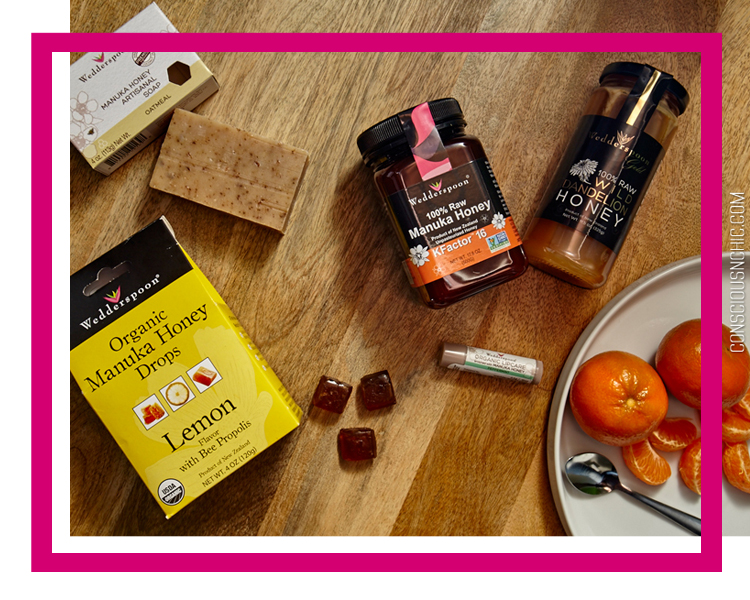 4. WEDDERSPOON | Shop now!
Wedderspoon is a honey producer which sources the finest and most pristine raw Manuka and gourmet honey in the world from the birthplace of the Manuka flower, New Zealand. This company is harnessing the power of Manuka honey and infusing it into its body care line. Wedderspoon also carries a wide variety of 100% Raw Honeys such as Wild Dandelion Honey, Wild Rata Honey and Manuka Honey which are all delicious. In addition to the honey,  I've also experienced two of their body care products namely their Organic Manuka Honey Lip Balms and Manuka Honey Artisanal Soaps. I love these products. I keep a Wedderspoon lip balm in my purse, another one in my bathroom and also by my bed. They are nourishing and keep my lips moisturized. I use the soap in the shower. It leaves my skin with a clean, fresh and subtle smell. Lastly, Wedderspoon Organic Manuka Honey Drops are just what the doctor prescribed for this time of year so indulge!
Black Friday Sales: Thanksgiving day through Cyber Monday.
Want to dig deeper? Check out the previous blog post I wrote about Wedderspoon:
HONEY FOR YOUR SKIN FEATURING WEDDERSPOON MANUKA HONEY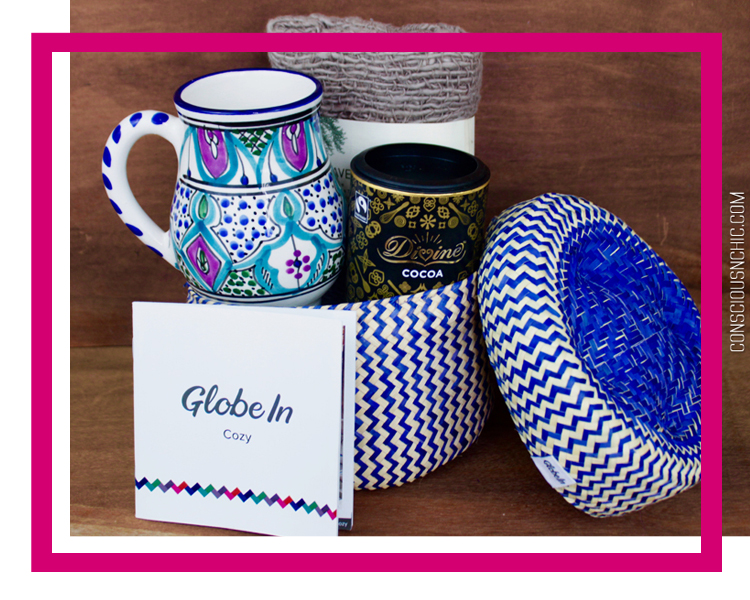 5. GLOBEIN ARTISAN BOXES | Use CONSCIOUSNCHIC15 for 15% off | Shop now!
GlobeIn Artisan Boxes
is a subscription service unlike any other. It exclusively includes hand-made products from around the world to support remote artisans and farmers. Each box is carefully curated and designed to meet a specific need.
The Savour Box
includes a wooden spice bowl from India, hand-painted spoon rest with matching salt & pepper shakes from the Palestinian Territories and a sea salt basket or handwoven palm leaf basket. Meanwhile
The Bathe Box
includes a pestemal bath towel from Turkey, lemongrass citrus African black soap from Togo, hand towel from Turkey, silk face scrub from Turkey and handwoven basket from Mexico. You get the idea!
GlobeIn Artisan Boxes
currently has 19 boxes for you to choose from including a Mystery Box if you're feeling adventurous! I've indulged in GlobeIn's Cozy Box which came with a beautiful hand-painted mug from Tunisia, 100% cotton scarf from the mountains of Thailand, cocoa powder from Ghana and handwoven basket from Mexico.
I appreciate how GlobeIn creates its boxes with thought, quality products and with the intent of making the lives of the artisans they work with better.
GlobeIn Artisan Boxes
can be purchased individually or with a 3, 6 or 12-month subscription. You can also take advantage of their Buy 3 Get 1 free special promotion going on right now. Having been featured on Buzzfeed, Forbes, CNBC and more, GlobeIn Artisan Boxes shows no signs of slowing down and I'm glad.
Black Friday Sales: Thanksgiving Day through Thanksgiving Sunday.
Free Glassware Set (Pitcher & Two Glasses) with Purchase of 3-month or longer Premium Artisan Box subscription. Use code BLKFRIDAY17
Cyber Monday Sales: Cyber Monday through November 30th.
Buy one Artisan Box, Get one 50% off. No coupon required. Discount reflected at checkout.
Giving Tuesday Sales: November 27 through November 30th.
50% off your first Artisan Box with any Premium subscription. Use code GIVINGTUE17 New subscriptions only.
Want to dig deeper? Check out the previous blog post I wrote about GlobeIn Artisan Boxes:
Giveaway alert! I will be hosting an Instagram giveaway with GlobeIn Artisan Boxes so stay tuned! 
I curated this gift guide with the hopes that you and your loved ones will be intentional about setting time aside to relax and care for your most precious gift: you! Self-care is near and dear to my heart and can make the perfect gift for everyone on your list young and old, near or far.
PS: Make sure to also get something for yourself! I won't tell! xo
Holiday Gift Guide Series: