I'm so excited to introduce you to one of my latest discoveries: the GlobeIn Artisan Box subscription. I know what you're thinking: another subscription box?! But this one is different! It's not a beauty box or a haircare box, it's not even a fashion box or home decor box, it's all of the above. If knowing that you'll consistently get a new shipment of eclectic goods is not enough to get you excited, what about this? The items sent in each box are made by artisans from around the globe. These artisans are treated with respect and compensated fairly for their work. So you don't only get high quality handcrafted goods but you also help support families internationally.
With thousands of subscribers, Globe In doesn't show any signs of slowing down. It's the perfect gift for the world traveler and the Instagram wanderlust fan in your life.
And guess what? GlobeIn is currently having a $20 off sale when you subscribe for 3 months or more by using code: HOLIDAYS.
If you miss the holiday promotion GlobeIn also gave me a code for you: CONSCIOUSNCHIC. This coupon saves you $10 off with a purchase of 3 and 6-month subscriptions.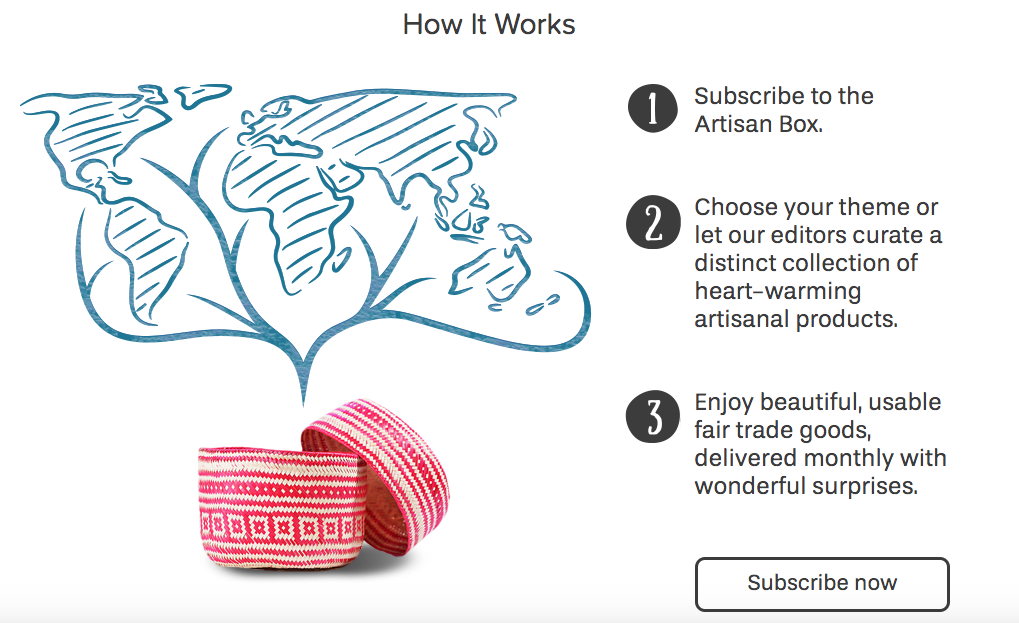 The Globe In promise:
Enjoy highly curated lifestyle products every month.
Save up to 50% of retail prices.
Support thousands of artisans from over 40 countries!
Customize themes every month.
Cancel any time.
A SURPRISE EVERY MONTH
"It's our passion to discover extraordinary, useful finds from all over the globe and share them with you."
The GlobeIn shop features products sourced directly from artisans as well as vetted partner organizations. Everything they carry is unique, from the Mexican woven baskets to Ghanaian cocoa. What I love most about this company is their dedication to supporting artisans, enabling them to make an honest living they can be proud of. In addition, GlobeIn highlights one artisan or artisan collective to crowd-fund their special project every month.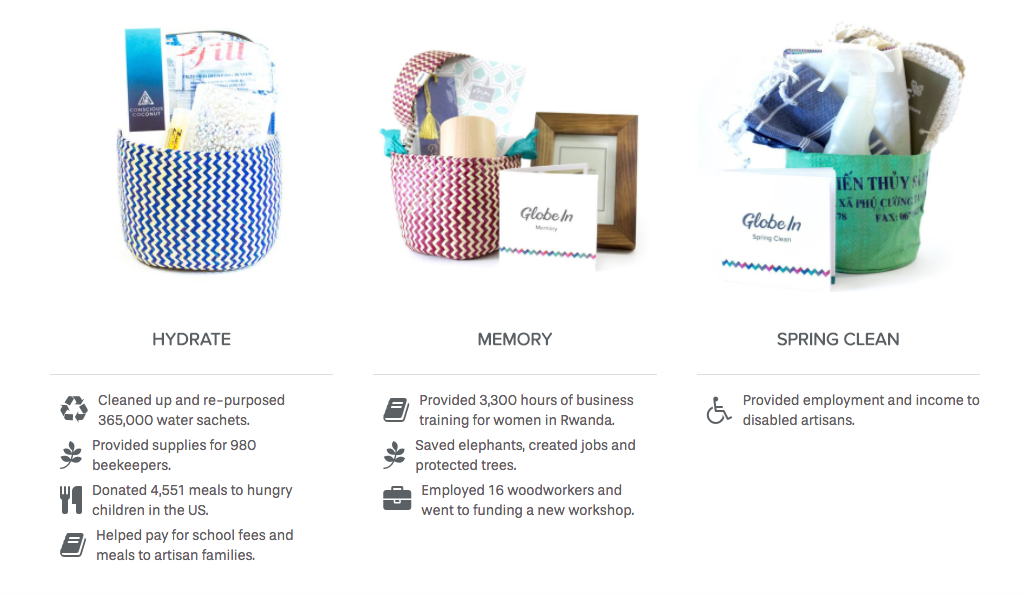 Did you know? In some developing countries, artisan goods are the second largest source of employment after agriculture?
"Fight poverty, one artisan at a time."
THE COZY BOX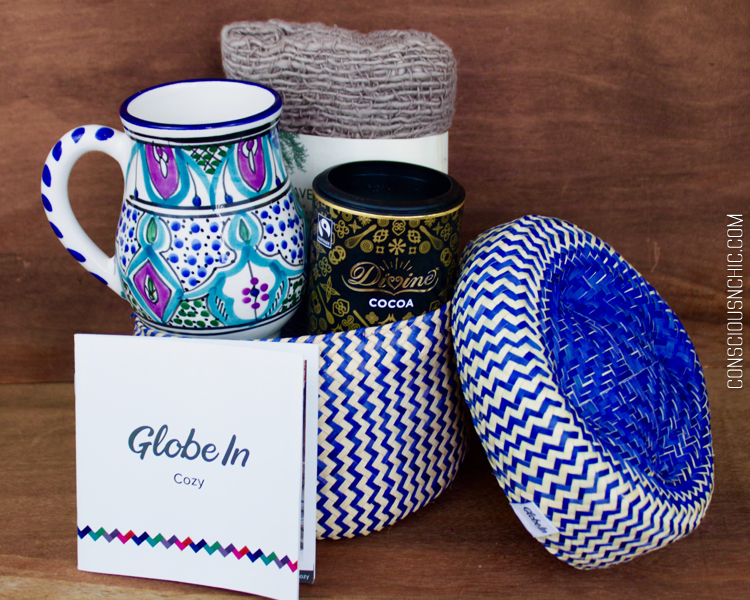 Each of their highly-curated boxes has a name such as Hydrate box, Memory box, and Spring Clean box to only name a few.
I had a really hard time choosing a box because there were so many to choose from. Each of them offered so much variety in products, combinations, and countries. Frankly, I wanted to try them all!
DISCLAIMER: The Cozy Box was kindly given to me by the GlobeIn team but all opinions are my own!
I chose the COZY BOX which provided the equivalent of a full year employment for 6 workers. It included a basket, scarf, mug and cocoa. Everything you need to get cozy on a Sunday afternoon!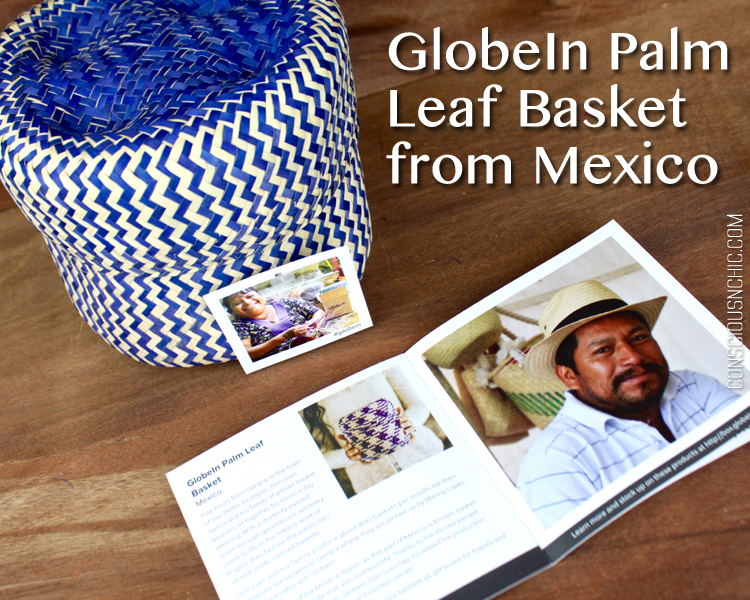 Handwoven Basket from Mexico
The first item I noticed in the box was the Mexican basket. It was the only piece that did not come wrapped in tissue paper. It was also used to hold the scarf and hot chocolate.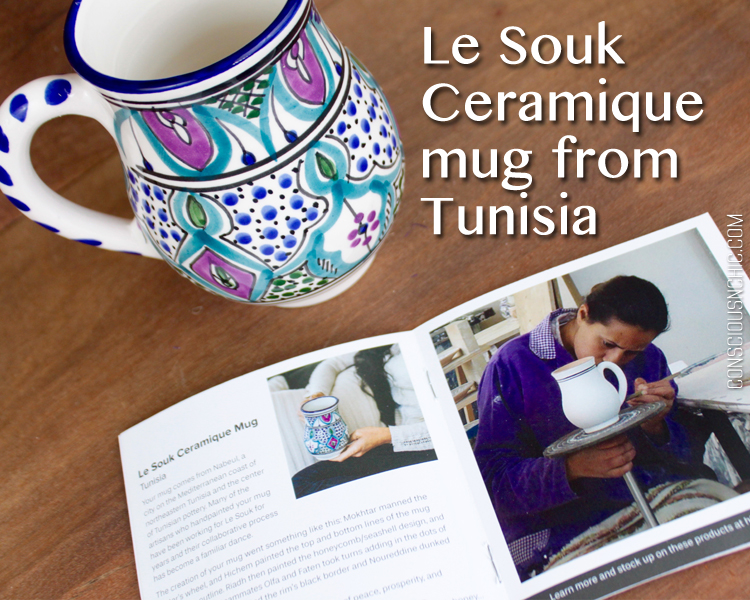 Handpainted Mug from Tunisia
The second most prominent piece in the box was the mug from Tunisia made by Le Souk Ceramique which, due to its size, was not packaged inside the basket but next to it. It was really well wrapped to avoid any damage which I really appreciated. The handpainted mug was more beautiful than in the pictures. I instantly fell in love with it. And to think that someone handpainted it is so special.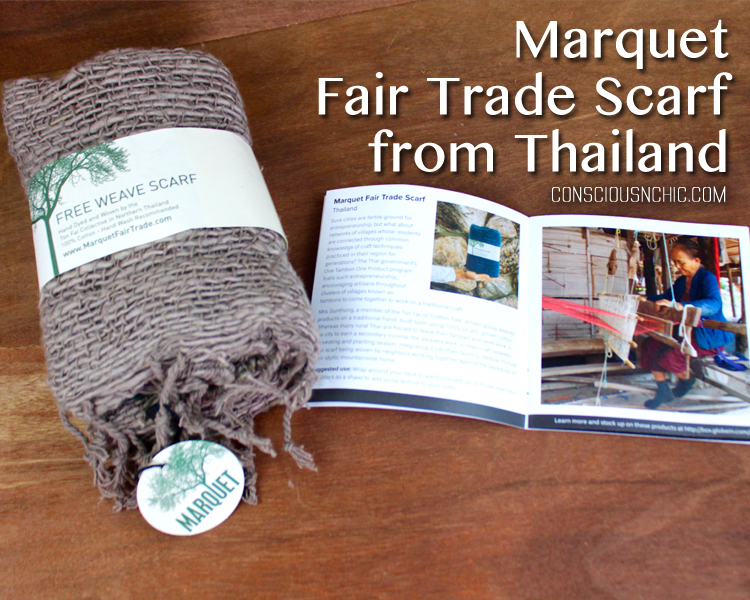 Free Weave Scarf from Thailand
The 3rd item I found in the Cozy Box was a khaki, free-weave scarf which was hand dyed and woven by the Ton Fai Collective in Northern Thailand.  I love the color and the texture created by the 100% cotton free-weave technique that was used to knit it.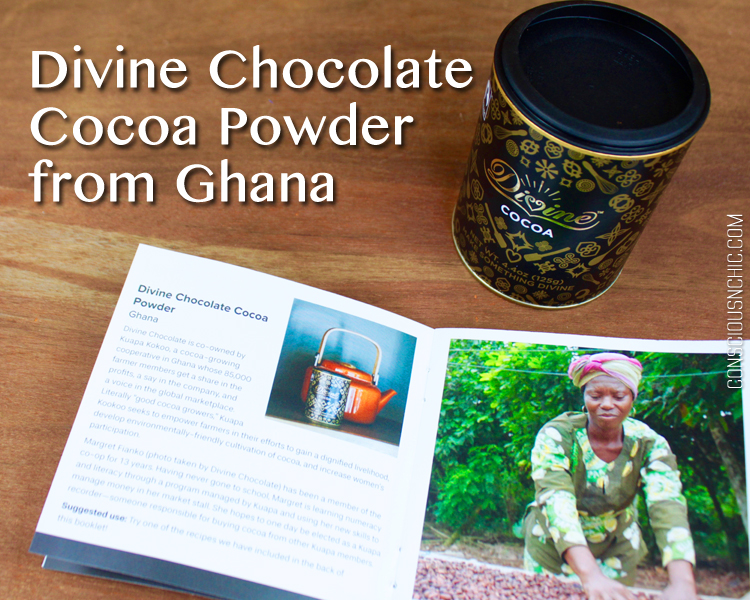 Cocoa from Ghana
Last but not least, the cozy box lived up to its name thanks to fair trade Divine cocoa from Ghana. I am actually, sipping on a cup of the family farmed and farmer-owned cocoa, as I am writing this review. This was the perfect way to cozy up (pun intended) while writing new blog posts. From the Globe In website, you can sign up for a pre-paid subscription, choose from previous boxes or curate your own. The possibilities are endless.
In addition to joining the subscription service, you can also purchase previous boxes or curate your own directly from the GlobeIn website.
The possibilities are endless. Happy holiday shopping!
GIVE IT A TRY? YES, I'll give it a try! GlobeIn Box Shop