"I decided to start a business with a vision for social change / empowerment." – Carolina, Founder of Columbian Girl Jewelry. 

As you may or may not know my birthday is coming up and I am in a giving mood!!! So for the month of February I am partnering with some fabulous Conscious & Chic brands to spread birthday love to you with fun giveaways.
First up, Columbian Girl.
Columbian Girl is a jewelry brand entirely handmade from dried fruits and seeds founded by Columbian born, Carolina. She moved to the States after falling in love with her now husband during a cultural exchange program trip. She has always been passionate about jewelry which is one of the ways she put herself through college. Today, they live in Dallas were she, with the support of her husband, designs and works with less fortunate women artisans in Columbia and empowers them by giving them the opportunity to sell original jewelry to the US market. What makes Columbian Girl's pieces unique is their organic roots, natural fragrances, and vivid colors.
"Women here had never seen jewelry like this before, and they were especially drawn to the variety of items, which included everything from orange peel and cantaloupe seeds to coffee beans and acai berries. And yet, there were still other seed types they had never heard of and that they were curious to learn more about, like tagua nuts, dalmatian beans, and bombona seeds. " 
Columbian Girl provides its artisans with more than sustainable work opportunities but also enriches their lives through simple things like household gifts, weekend trip get-aways, and basic needs such as food.
THE GIVEAWAY: Pura Tagua (brown)
Description: This necklace and earrings jewelry set is called "Pura Tagua" which means "Pure Tagua" in English. It is handmade from whole tagua nuts found in the Amazon, by a female Colombian artisan. The tagua nut is also known as vegetable ivory, for its resemblance to the ivory in an elephant's tusks.  It has been said that this fruit is helping impede deforestation of the rainforest, as well as the innocent slaughter of elephants in Africa. Organic, empowering, and simply stunning to look at, this piece of jewelry really gives meaning to the phrase, "beauty beyond skin deep."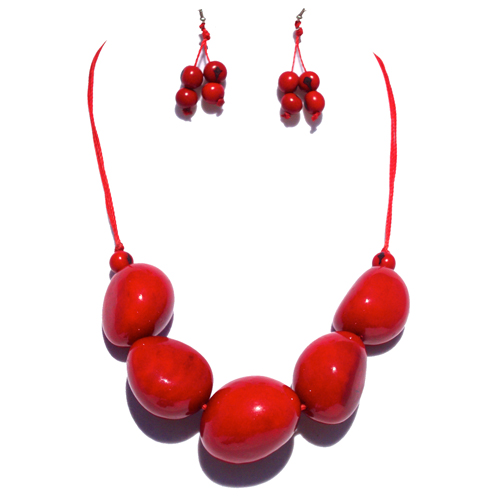 HOW TO ENTER  |  Entering this giveaway is really easy all you have to do is:
1. Follow @ConsciousAndChic on Instagram and look out for additional entry opportunities.
2. Be 18 years or older.
3. Live in the Continental United States.
4. Giveaway is open until: February 28, 11:59pm PST. Winner will be announced: March 1, 2015. ENTER NOW!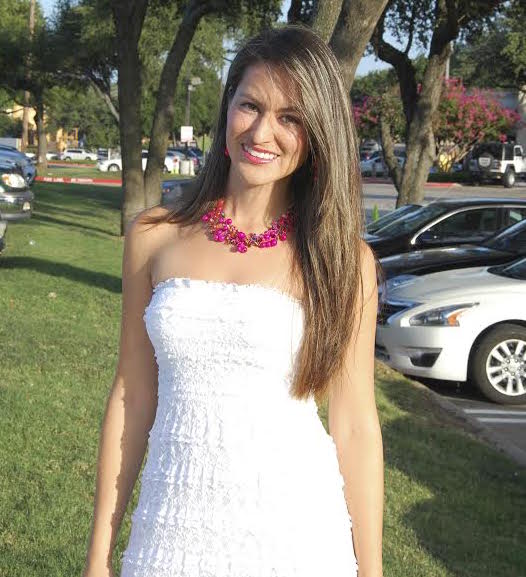 I interviewed Carolina to dig deeper into Columbian Girl Jewelry in 4 simple questions.
F.W.A.C.:  What is the heart behind the brand? 
Caro: The heart of this brand is the Colombian woman artisan (the real "Colombian Girl") behind the scenes, who makes every item, with her hands!  She is the reason this jewelry exists, born out of socio-economic disadvantage as a means of survival, pure and simple.  But in the struggle, she has emerged beautiful, courageous, and ALIVE, and this jewelry echoes her story and inner beauty, in a genuine and tangible manner.  Indeed, it is the same struggle women all over the world endure, and yet emerge victorious, realizing dreams they never thought possible.  These women artisans, just like the jewelry they create, truly are fearfully and wonderfully made.
FWAC: Why do you produce your goods with a sense of social responsibility the way you do? 
Caro: I know what it is like to have little, and I have also experienced times of abundance.  It is the people who reached out to me in the times when I had less, that I have come to respect and value most.  I desire to be one of those people, giving from the abundance that was really never my own to claim, to the women artisans that are the sole producers of this jewelry.  I suppose you could call it "social responsibility" but honestly, I just think it's the right thing to do — I want to run my business with the same moral code I use to run my life.  And I believe most people out there with a heart and compassion, would take a similar stance!
FWAC: What would you say to someone who would like to follow in your footsteps?
Caro: It's worth it.  I'll never forget an interview I completed with one of the younger Colombian women artisans last year.  She was a woman with the appearance of a mother in her late 30s, but a set of grandchildren nearby suggested she might have been a little bit older.  I asked her if the work we provided had helped her over the course of the last year.  Without a second thought, she broke down crying and told me, "Yes, I really thank you, it's the only form of support I have for my family…after my husband was murdered last month."  The lump in my throat at that moment was palpable.  Today, I refer to that moment as my calling, and I intend to continue helping these artisans as much as I can, as long as I am still able to conduct this business.  I think we all receive a calling like that in our lives, and when it arrives, we must answer — it's worth it!
FWAC: Anything else you would like to say to our (F.W.A.C.) readers? 
Caro: I would just like to thank your readers for reading, and wanting to learn more about these incredible Colombian women artisans at the heart of this jewelry.  If you get a chance, tell someone you know about "jewelry made from fruit" and how it is changing lives, one cantaloupe seed at a time.
"My passions are my family, my faith, and actively seeking out opportunities to help other people in need." – Carolina
Carolina's thoughts on:
1. Feminine beauty…  It's ours to reveal to the rest of the world, let it shine!
2. Empowerment… At its core, it occurs between one human being and another, but its effects can move mountains.
3. International business… The direction our global economy is taking us, buckle up because the ride is just beginning.
4. Poverty… Tangible, devastating, and wide-spread, I try to remember to whom much is given, much is expected.
5. The role of women in poverty-stricken countries… We must go beyond a role as primary care-takers and sole providers, to become political and economic leaders if corruption, gender inequality, and public health are ever to be improved.
6. Consumerism… An absolute necessity for all companies, that I fear many forfeit as way to soak up more revenue, which ends ultimately in short-sightedness and the company's eventual brutal downfall.
7. Sustainability… Another absolute necessity, as our vitality as a human race utterly depends on it.
8. Your purpose in life… To extend the same hope, love, and forgiveness given to me by God, to all people around me.
Now that you know EVERYTHING about this fabulous brand:
1. check out their website were you will get a special 30% off everything on the website,
2. follow them on social media (Twitter // Facebook // YELP) and