As you may have read in my previous post, I am obsessed with Krama Heritage, a Cambodian-inspired scarf brand designed following the ancient tradition infused with Parisian elegance. If you have not read it yet, I strongly recommend you head over there and discover their project and collection.
Now on to the looks! I received a Krama Heritage scarf in the color Rouge Bordeaux which retails for €39.00. It is 100% cotton and 3€ of every sale are donated to the French NGO Pour un Sourire d'Enfant (Translates to: For a Child's smile).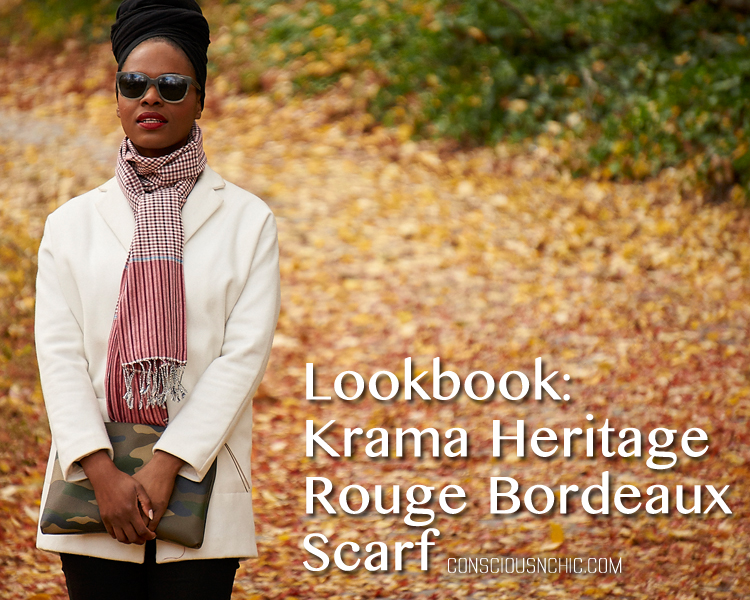 In this first look, I paired the Rouge Bordeaux scarf with a denim shirt, black skinny jeans, and burgundy pumps. This look is reminiscent of what I would wear to the office on a day where I don't have meetings and need to focus on getting things done! I would also wear this on a mild fall day for showroom visits.
In this second look, I dressed up the look a bit with a white jacket. I love wearing white year-round as I don't believe one should stop wearing the stunning color after labor day. I also paired the scarf with one of my favorite camouflage clutches. I love mixing patterns, always have, always will.
Once again, don't forget to read my review. Hope it inspires you to discover Cambodian culture and give gifts that give back this holiday season!
Krama Heritage | Website | Instagram

Photo credits: Ashley Adele Photo.