Parlez-vous français! Oui, oui!!
I was delighted when Paris-based scarf brand, Krama Heritage reached out to me to add one of their unisex scarves (of my choice) to my collection. I love wearing scarves on my neck and on my head as you may have noticed. There is something sophisticated yet fun about wearing a scarf not to mention that it is also very practical when you live on the east coast.
The Krama is a Cambodian scarf with many functions and meaning. The Krama occupies an important place in the Cambodian culture and I was delighted to be exposed to it through Krama Heritage. It is a distinctive symbol of belonging to the Cambodian people.
In Cambodian culture, the Krama is used in everyday life to carry infants, offer shade from the sun and as a towel. It is also used to collect firewood, cook rice and as a Cambodian martial arts weapon.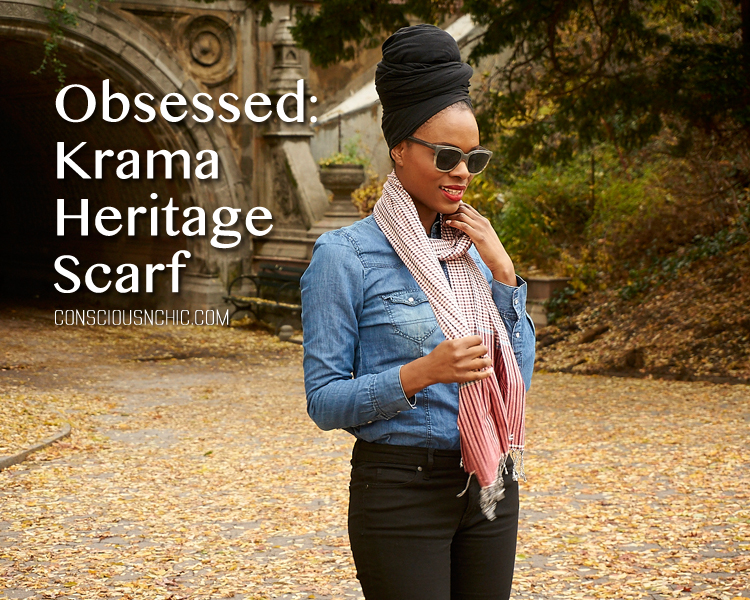 THE CONSCIOUS: Cambodian heritage, hand-crafted and fair
"Every Krama Heritage is hand-crafted in a responsible way in our sewing shop in Phnom Penh. With the passion and talent of the lady weavers, the Krama Heritage is produced in limited series.
Producing our Kramas in a human-size sewing shop, respectful of its weavers and that benefits from a long tradition of savoir-faire is for us one of the achievements of the Krama Heritage project. Meeting the master lady weaver and sharing moments with the craftswomen allowed us to strengthen the humane aspect of the economic relations we would like to build with Cambodia.
Every Krama Heritage is produced in accordance with the terms of a fair exchange as we want to be at the root of a maximum economic impact for the lady weavers of our sewing shop and their families. We have carefully chosen our sewing shop after making sure that the working conditions meet the highest ethical standards and that the confection of the Kramas is respectful of the Cambodian traditional weaving methods. We have the ambition of extending that project to further sewing shops in Cambodia to increase our local economic impact."
Also, 3 – 5€ of every sale are donated to the non-profit organization Pour un Sourire d'Enfant (Translates to: For a Child's smile).
THE CHIC: Fun & sophisticated 
In addition to introducing you to Krama Heritage, let me show you how I wear mine! I should note that The Krama Heritage Project
In this first look, I paired the Rouge Bordeaux scarf with a denim shirt, black skinny jeans and burgundy pumps. This look is reminiscent of what I would wear to the office on a day where I don't have meetings and need to focus on getting things done! I would also wear this on a mild fall day for showroom visits.
In this second look, I dressed up the look a bit with a white jacket. I love wearing white year round as I don't believe one should stop wearing the stunning color after labor day. I also paired the scarf with one of my favorite camouflage clutches. I love mixing patterns, always have, always will.
The Krama is easy to wear booth indoors and outdoors because it's a lightweight and well-crafted accessory. It is the perfect way to add a little punch of color to any outfit. It is also a great gift idea for the men and women in your life.
Happy holiday shopping!

Photo credits: Ashley Adele Photo.