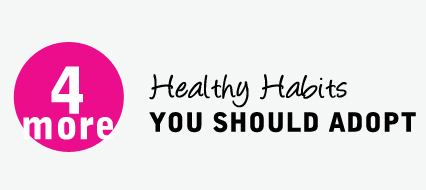 Hi loves,
I am back with another healthy lifestyle blog. I love writing about health because it's helpful to you and keeps me accountable too!
This list is in addition to the 5 Healthy Habits You Should Adopt TodayI posted, last week. If you haven't read that post yet, read it first and then come back to this one.
1. SPEAK UP
Expressing your feelings can be hard but keeping them bottled in can be very destructive, lead to misunderstandings and resentment. Everyone desires to be heard and understood and should be able to do so with all the people in their lives because healthy relationships require skilled communication and mutual respect. If the person you are talking to doesn't care about how you feel or doesn't take what you are saying seriously they should not be in your life. Speaking up is always worth it in the long run.
2. DON'T SWEAT THE SMALL STUFF
Sometimes you just have to let things go and understand that every battle is not worth fighting. This takes a lot of maturity and wisdom. That's it.
3. PRACTICE GRATITUDE
I can't stress this enough. Developing an attitude of gratitude is essential to living a healthy lifestyle. Being thankful will increase your positivity and ensue, better your relationships. No one wants to hang around someone who is always negative. Also, once you realize how much you have to be grateful for, you will want to give more yourself. Win, win!
4. KEEP IT CLEAN
Organize your room, workspaces and hard drives, regularly. Living in a messy space influences your mood and the clarity of your thoughts. So get into the habit of keeping your living spaces clean and clutter-free. The same goes for your computer. Here's an Easy Guide to Spring Cleaning!
Stay Conscious & Chic!