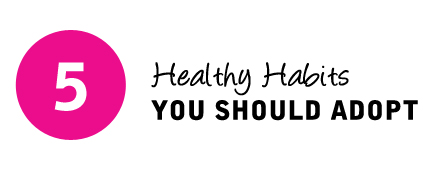 An increasing amount of people are becoming health and fitness conscious but many forget to keep their minds and spirits in shape too. Today, I am bringing you another health tips post but this time it's not for your body! So dive right into it and read these 5 healthy habits while getting your beach body ready!
1. LIMIT YOUR TIME ON THE COMPUTER / TV
In today's media and social media driven world, we are constantly bombarded by images, ideas, concepts and beliefs. They come from our friends, families and the entire world, really. It can be overwhelming and leave little time for us to stop, collect ourselves and figure out what we want our lives to be led by. So limit your time on the computer and tv and make time daily to meditate.
2. SPEND TIME WITH PEOPLE WHO MAKE YOU HAPPY
This is so important. Spending time with friends and family who make you happy will give you energy, help you disconnect from the stresses of life and improve your focus. You don't have to do anything complicated: you can talk on the phone, have a Skype date or simply go for coffee and catch up. People are our most precious gifts and we should enjoy them while they are there.
3. GIVE BACK
It does feel better to give than to receive especially when you give to people who can't repay you. Seeing the gratitude in their eyes is priceless and can change your life. You can give your time at a food bank, donate money to a cause that is dear to you or just help tutor a child in your neighborhood. Check out this amazing video by MagicofRahat, you'll see what I mean.
4. GET INVOLVED IN PROJECTS THAT HAVE MEANING
Getting involved in projects that have meaning for you and for the world at large will keep you excited and give you something to look forward to everyday. Meaningful projects will also fuel your creativity and this creativity will trickle down to every other areas of your life.
5. TAKE TIME FOR YOURSELF
This tip is one of the most important yet it is probably the most neglected. Because we lead busy lives, we must take time to be alone and regroup. During your alone time, try doing things that nurture your mind, body and soul. These will be different for each person. Me, I like to soak in a bath of aromatherapy and listen to music.
Stay Conscious & Chic!