This salad cucumber and tomato salad recipe is so easy and delicious. You can eat it on its own but I love making it as a side dish. It is refreshing while the onions give it that extra kick. Another great thing about this dish is that it can be enjoyed year round. I like to pair it with grilled chicken breasts and quinoa with a lemon garlic sauce.
INGREDIENTS: Serving size: 3 as a side dish
1 Cucumber
2 Tomatoes
Red Onion to taste
2 tbsp Extra Virgin Olive oil
Sea Salt & Pepper to taste
INSTRUCTIONS:
Thoroughly clean all the vegetables
Dice cucumber in 1/2″ pieces
Dice tomatoes in 1/2″ pieces
Chop up red onion
Combine all vegetables into a bowl
Toss with extra virgin olive oil
Add & Toss with salt and pepper to taste
HEALTH BENEFITS:
Cucumber: hydration, digestion, detoxifying, vitamins A, B, C, potassium, magnesium, silicon, eye care, weight loss and more.
Tomato: hydration, collagen, fiber, potassium, vitamin C and choline, folic acid, heart health, cancer prevention, antioxidant and more.
Onion: antioxidant, folate, thiamine, calcium, magnesium, potassium, manganese, vitamins C, K, B-6, heart health, anti-inflammatory, cancer prevention and more.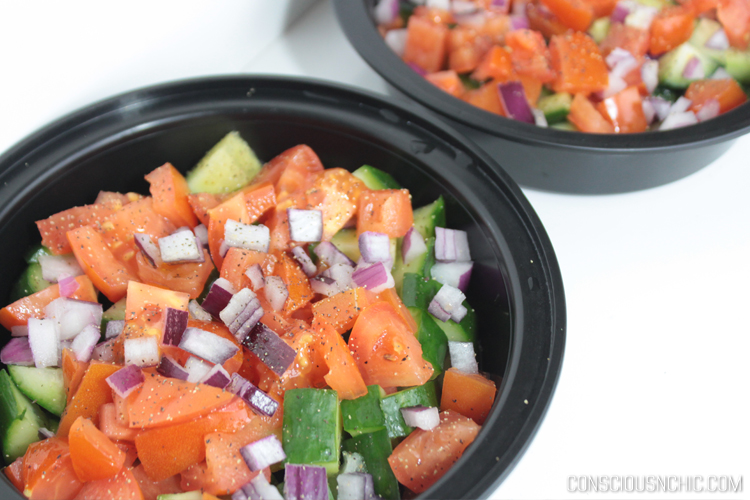 BONUS TIP: Living a busy life like I am, eating healthy depends on how well I prepare my meals for the week in advance. So once a week, I chop and dice all my vegetables and store them in take-out containers and mason jars.
If you are adding this Cucumber & Tomato Salad to your diet, comment below to let me know!