If you love the soothing feeling of hot soup on a cold day, this recipe is for you. Soupe joumou is a traditional Haitian squash soup. Haitians prepare and eat it as their first meal of the year every January 1st to celebrate Haitian Independence Day!
Historically soupe joumou or soupe au Giraumon in French was a delicacy reserved for the French slave masters and forbidden to their African slaves. The slaves were preparing it for them but weren't allowed to eat it. When the slaves as well as free people of color fought against the French military and won their independence in 1804, they reclaimed the dish and established the First Black Republic in the world. They changed the name of the island from Saint-Domingue to Haiti which is Ayiti in Haitian Creole.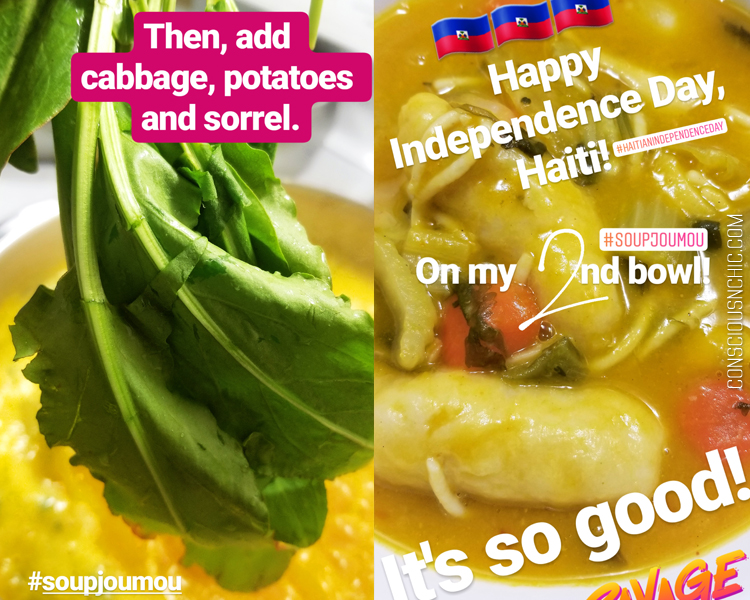 This territory was France's most profitable colony but no longer under brutal French rule it became the first country in the western hemisphere to completely abolish slavery. This was over 200 years ago and the tradition is  carried on by Haitians around the world. In addition to the historical significance of this dish, I love soupe joumou because it is delicious. In fact, it is by far the best soup I have ever had.
What was once forbidden became the very symbol of Haitian independence and freedom! The tradition is so deeply engrained in the fabric of Haitian culture that Haitians will either make it or find a place to have it come January 1st.
I shared this recipe in my January 1st Insta Story and so many of you asked if I would share the recipe in blog form so here it is. Since I don't eat meat at the moment, this recipe is the vegan variation of the dish which is traditionally made with beef and cow's feet. There are many different ways to make it but this is how my family prepares soupe joumou.
INGREDIENTS: 8 servings
1 Medium Size Squash

1 Onion, chopped

3 Stalks of Celery, chopped

3 Carrots, chopped

3 White Turnips, chopped

2 Cups of Leeks, chopped

1/4 Green Cabbage, chopped

3 Potatoes, chopped

5 Sorel leaves, chopped

4 Cloves of garlic, chopped

Cilantro leaves from 3 stems, chopped

1 Hot pepper, closed

Thyme bunch, tied together

Frozen squash, 1 pack

Pasta: 2 handfulls of macaroni and spaghetti

Spices: salt & homemade Haitian spice mix which includes garlic, onion, shallots, green bell pepper, cloves, thyme and olive oil combined in a blender.
INSTRUCTIONS: Haitian Squash Soup
Dumplings (optional) instructions: 
1. Mix 1 cup of flour with 3 oz of water and 1 tablespoon of olive oil. Salt to taste.
2. Work into a stiff dough (not sticky).
3. Take a tablespoonful and roll into rope, 3/4″ wide x 4″ long.
Soup instructions:
1. Cut squash is 4 pieces and boil in 500ml of water for 10 minutes. Don't allow them to get too soft because this will make them  hard to peel.
2. Sauté onions in pot with a little oil.
3. Add 3 liters of water and bring to a boil.
4. Add celery, carrots, white turnips and leeks to boiling water. Stir and wait 15 minutes.
5. Add pasta, garlic dumplings, potatoes, cabbage and Sorel.
6. Peel cooked squash to remove all the skin.
7. Liquify cooked squash in a blender with cooking water until smooth and pour into boiling soup. Stir and wait 15 minutes.
8. Add frozen squash and stir.
9. Add chopped cilantro, thyme bunch (tied) and hot pepper (closed).
10. Let boil for 15 minutes, serve.
If you try this recipe be sure to share it with me on social media! Instagram / Facebook / Twitter / Pinterest