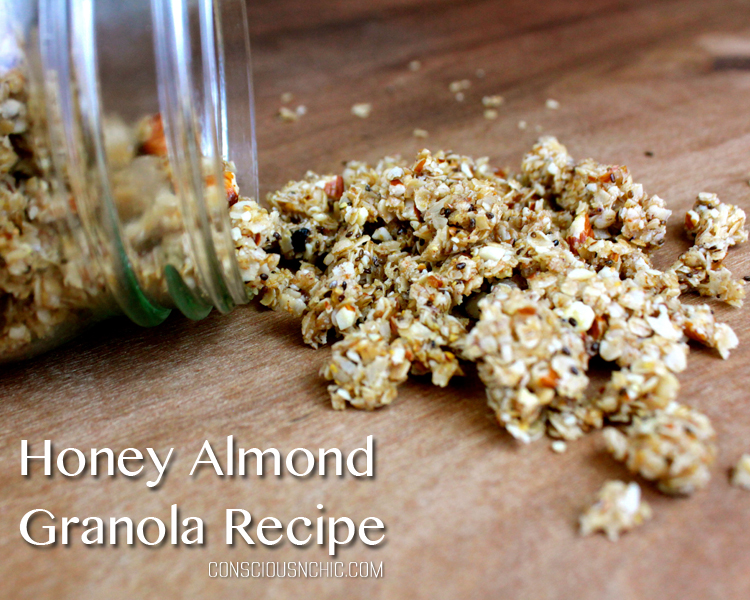 I am really excited to share this delicious recipe with you. My friend Amy makes her own granola and I asked her to share her Honey Almond Granola recipe with us. She was kind enough to write the below and give me a whole batch. I've been eating it as cereal with almond milk, by itself as a snack and on top of my favorite greek yogurt with fresh fruit.
Here it is! Enjoy!
INGREDIENTS:
1/3 Cup Brown Sugar
1 Cup Almonds
3 Cups Old Fashion Oats
1/3 Cup Honey
3 Tbsp Coconut Oil
1/4 Tsp Vanilla Extract
2 Tbsp Flax Seeds
2 Tbsp Chai Seeds
1/2 Tbsp Salt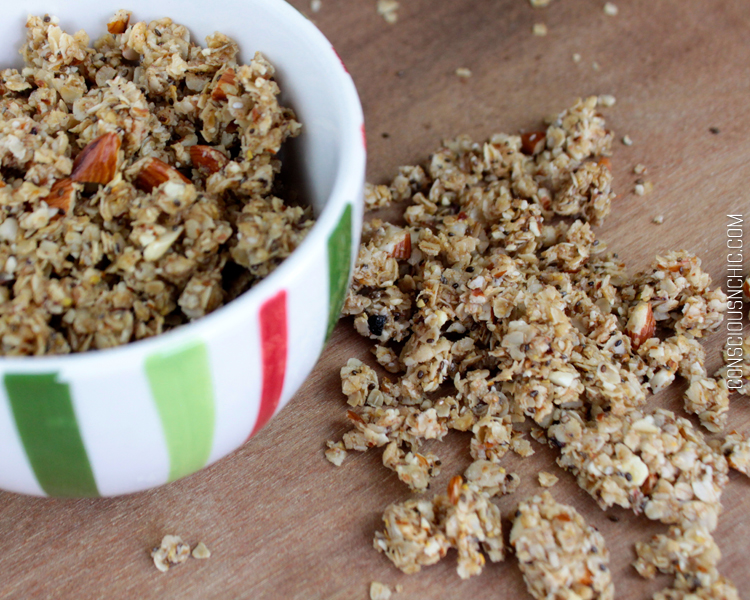 INSTRUCTIONS:
1. Preheat oven to 340º
2. Split Almonds evenly (1/2 Cup each) Blend one half to be finely chopped, blend the other half to be coarsely chopped. If you do not have a blender or food processor, you can chop by hand. This method will practice your patience and might send almonds flying all over the kitchen but it will work just fine.
3. Mix together Almonds, Brown Sugar, Oats, Seeds and Salt in a large bowl.
4. Microwave Coconut Oil & Honey for 40 seconds, add Vanilla Extract and stir to combine. Note: the oil will melt into the honey as you mix so there's no need to heat longer than 40 seconds.
5. Pour Honey and Coconut Oil mixture over dry ingredients in large bowl and mix until all dry ingredients are covered.
6. Cover cooking sheet with wax paper and spread granola over the baking sheet and bake for 5 mins. Remove baking sheet, stir and bake for another 5 mins.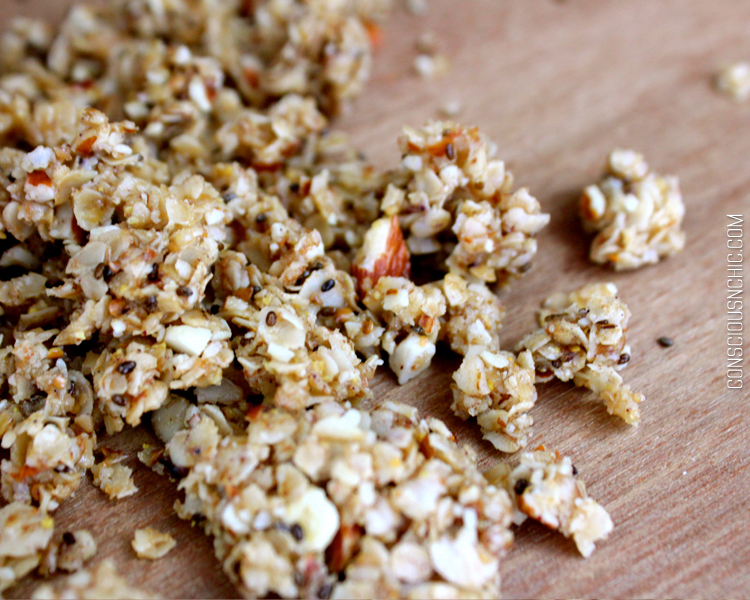 7. While granola is baking, create an area for granola to cool by laying out wax paper on a flat surface. Make sure this area is bigger than the baking sheet because you will be dumping the hot granola on top of it.
8. Once the 10mins of baking time is up, remove baking sheet from oven, and carefully dump the granola onto wax paper. Spread granola out to make a thin layer. Note: if the layer is too thick the granola won't cool evenly and might stick to wax paper.
9. After granola has cooled completely, break it up and store in an air tight container. I like to use Mason Jars because let's face it, they're cute and practical.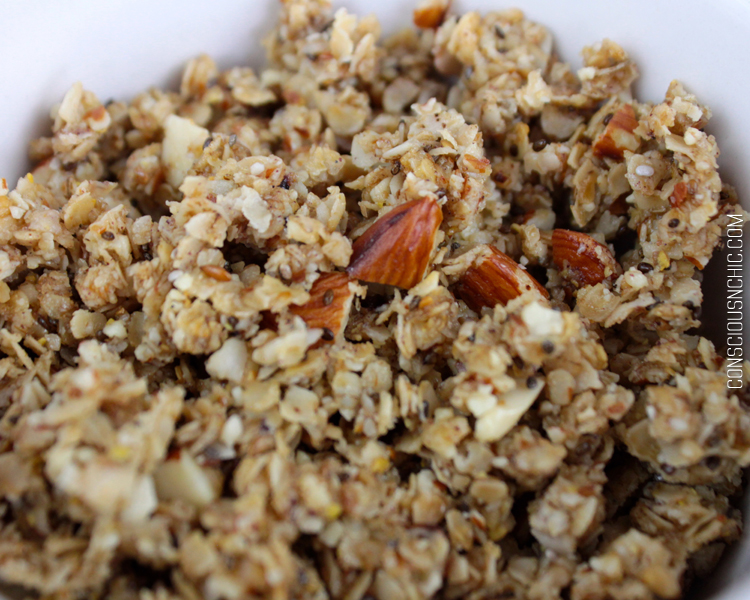 HEALTH BENEFITS
Oats: antioxidant, rich in fiber, helps lower levels of bad cholesterol and stabilize blood sugar.
Honey: antioxidant, antimicrobial, antibacterial, anti-fungal, boosts athletic performance, rich source of vitamins and minerals.
Almonds: rich in vitamin E, calcium, magnesium, potassium, protein, fiber and naturally low in sugar.
Coconut Oil: improve blood cholesterol levels, heart health and brain health.
Flaxseeds: fiber, antioxidant, omega-3 fatty acids, protein, vitamin B1, manganese, magnesium, phosphorus, selenium, vitamin B6, Iron, potassium, copper and zinc.
Chia Seeds: antioxidants, fiber, protein, energy boosting, omega-3 fatty acids, omega-6 fatty acids, potassium, zinc and phosphorus.
You can jazz this granola up with fruit or nuts as well as adding it to yogurt or baking it a little longer to make granola bars. Personally, I like to enjoy my honey almond granola as a cereal by eating it with Coconut Milk.  – Amy
JOIN THE CONVERSATION: How do you like your granola?