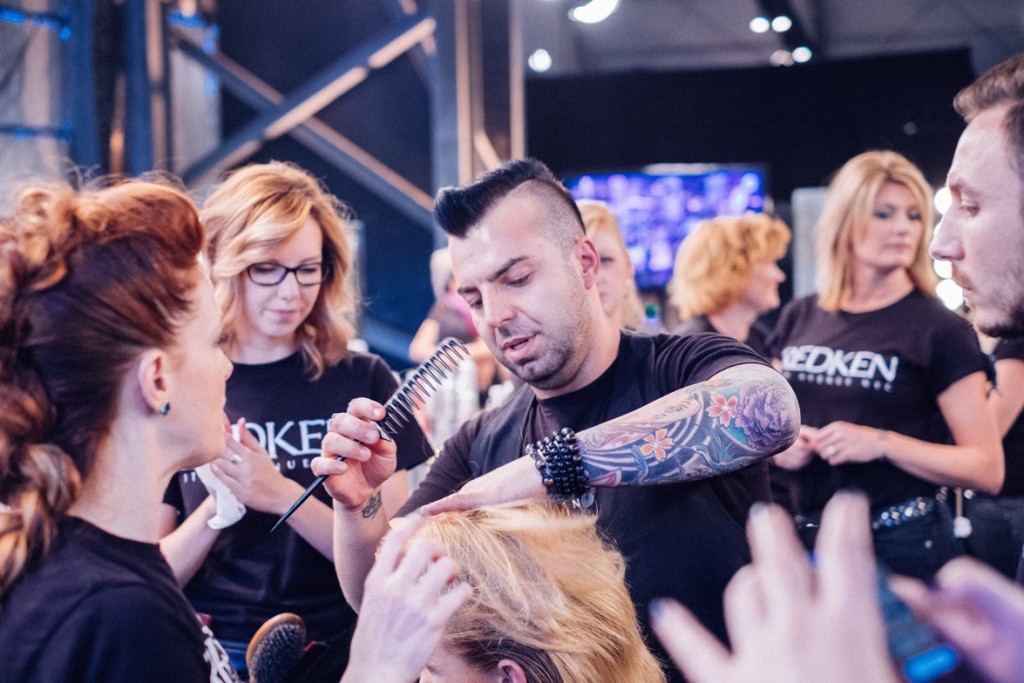 World Master Card Fashion Week (WMCFW) is like a family reunion for me every season. There are a slew of people I'm always happy to see, one of them is REDKEN's Artistic Director and WMCFW's Lead Hairstylist, Jorge Joao. Joao is a Canadian born Portuguese, talent hairstylist and all around cool guy.
When he was younger, however, Joao never thought he would grow up to be a hairdresser. Hair styling was just one of those things he had a knack for. He remembers cutting his friends hair in his garage: "My friends would go the stylist and never get what they wanted. So I would just tell them to let me do it. I had the ability!" Joao didn't know what he was doing technically; he cut according to his feelings and the results were always to his friends liking. The young talent continued to do hair as a side thing but never took it seriously. In high school, he developed an interest for nutrition and training and went to college for it, always keeping hair styling as a hobby. But he was not truly happy and wanted to do something he loved but didn't think hair styling was it. "I told my friends, I don't want to be a hairdresser. I have old school parents and I don't know if it's going to be my thing," he said.  But with the encouragement of his friends he looked into it and realized there were a lot of different avenues he could go into in the hair business.  Surprisingly, his traditional family was very supportive. With nothing else holding him back he went in 100%.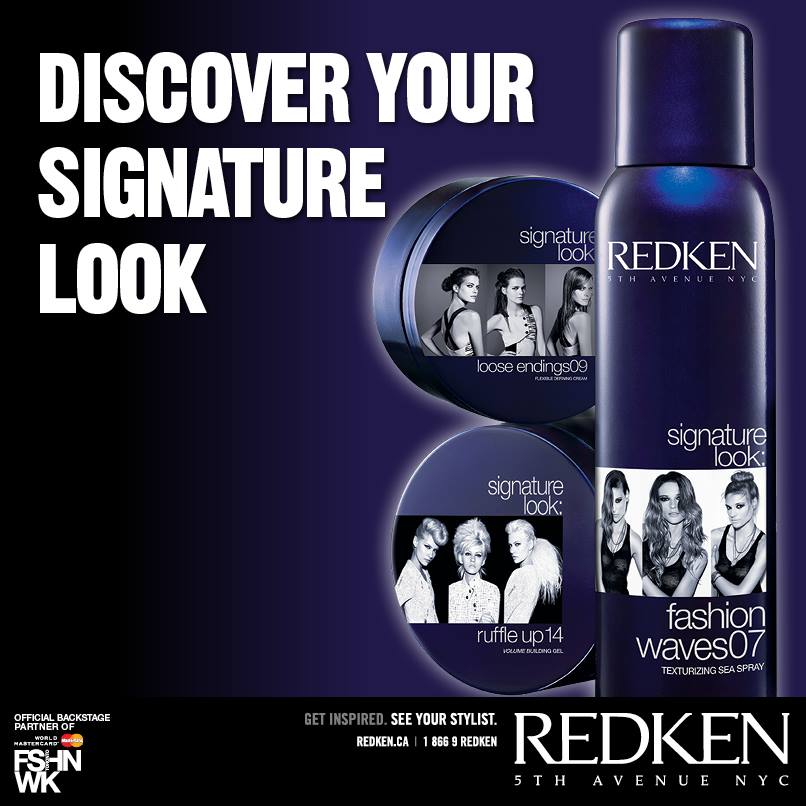 F.W.A.C.: How did you land a position at REDKEN?
J.J.: I went to hair school and things just happened really fast. People started taking a liking to me. I was always pushing myself and getting involved in things that would showcase what I can do, my passion and my ability. Things just started to grow. I started to get popular in the salon and then REDKEN noticed me and wanted me on their team. Everything just took off! I started doing small events to bigger and bigger ones. Now, I have a product with them and am doing a lot of their international work. I go all over the world, I just came back from Paris, Milan, London, and New York. It has been a great ride. I can't complain.
F.W.A.C.: What is the name of your REDKEN product?
J.J.:  I helped create the Signature Look collection. One of the products is called Fashion Waves 07, it's a sea salt spray and my name is on the bottle.
F.W.A.C.: Is this product suitable for afro-textured hair?
J.J.:Â Yeah, definitely! Â It works on every kind of hair that has texture and movement in it. It will just give you a grittier and grungier feel.
F.W.A.C.: Since we are on the subject, what are your best tips for afro-textured hair?
J.J.: Moisture. Keep your hair moisturized, take care of it, comb through your hair, and maintain your cuts because if you let your ends go that's when you'll get knots and your shape won't look as crisp. Also keep up with your hair and scalp treatments. If you keep those up, you will have more versatility with your hair.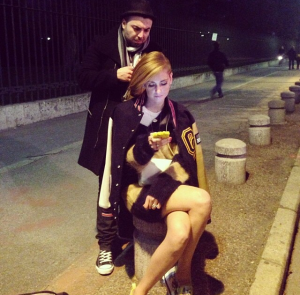 F.W.A.C.: What are your favorite hair trends for spring?
J.J.: For long hair, I'm loving the way it's being put up in a non-caring bun or into two ponytails and two different types of bun. It almost has that geisha feel. I've seen a lot of that in Paris and Milan. It was massive, we call them the man bun or the struggle bun. Also, people are being creative with their short hair. They are not afraid to rock what we call disconnection where you see the extreme in lengths like short to long. The style is literally no effort: brushing it out or drying it because the cut is the style, you don't have to dress it up. I see people getting creative. We have celebrities like Pink, Rihanna, and Miley Cyrus pushing at the forefront. They are being brave and it's becoming commercially normal.
F.W.A.C.: What do you think of the saying:Â "If you do what you love, you will never have to work a day in your life."?

J.J.: I agree to certain point. I think when you do what you love it's true that it does not feel like work. But your passion can take over you. For example, I love what I do and to me it's not work, but it's a big part of my life so I feel like most of my life is work. I'm thankful but other things kind of take a back seat like family. That's the down side. There is a yin and a yang to everything.  Success to me means waking up in the morning not cursing the alarm clock when it rings or living two days of the week (Saturday and Sunday) and being miserable for five days.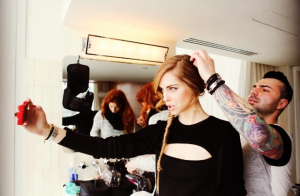 F.W.A.C.: What advice would you give to someone who would want to be a hairdresser like you?
J.J.: Don't be afraid to step out of the box, just go for it, because the more you hold back and the more you are hesitant, you are just prolonging your advancement. Make mistakes, everyone does but you learn from them. If you don't make mistakes you will never move forward and you will always stay at the same level. Treat your mistakes as learning experiences. We call mistakes a miss take, so it's just take 2.
F.W.A.C.: How do you find that work/ life balance, or have you found it, or is that something you are working towards?
J.J.: I would like to say that I have found it but it is still a work in progress for sure. I definitely think I work more than I have personal time. But I'm not complaining because I love what I do and I still have dreams and goals that I want to pursue. I have a great support system at home that keeps me grounded: great family, group of friends. They support what I do, and make time for me when I have the time to stay connected. I love where I am at right now, loving my position.
F.W.A.C.: The position that you are in is definitely a leadership position. How do you build your team?
J.J.: To be a good leader you need to be part of a team. Sometimes you got to show that you are part of the team not on top of it. You need to understand that you get what you give: if you give respect, you will get respect, and if you want hard work you got to give hard work. People will only do as much as you are being an example as. So I try to stay humble, be real, I congratulate, I reward people's successes and help them learn from their mistakes.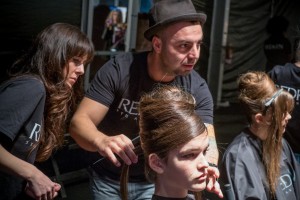 F.W.A.C.: What's the best leadership lesson you've learned doing this job?
J.J.: Patience, patience, and multitasking for sure. It's just understanding that there are different personalities. You can't connect to everyone in the same way. So you really need to understand that there are different characters out there and be patient because you  know that everyone is not going to process information and messages the same way.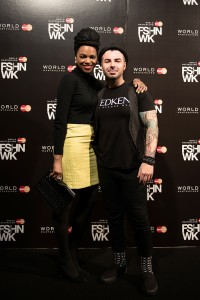 JORGE'S FAVORITE THINGS
Favorite movie of all times? Shawshank Redemption.
Favorite shoe designer? Ooh… I don't know, I'm into chucks. That's a good question. I don't know if I have one shoe that I'm always chasing but I like my chucks.
What's playing on your iPod? Well, I got everything from Jay Z, Justin Timberlake and Kings of Leon.
Favorite food? I'm a little bit of a lush when it comes to food. I like my fine dinning, anything that I could eat with a good glass of wine.
Red or white? Red.
Joao is creating more fabulous looks this week so stay connected with me on social media for more exclusive footage and fashion week coverage.
Follow the chic:Â INSTAGRAMÂ /Â FACEBOOKÂ /Â TWITTER
Stay Conscious & Chic!

Photos Courtesy of Redken, Jorge Joao and Aleyah Solomon for Fashion With A Conscience.