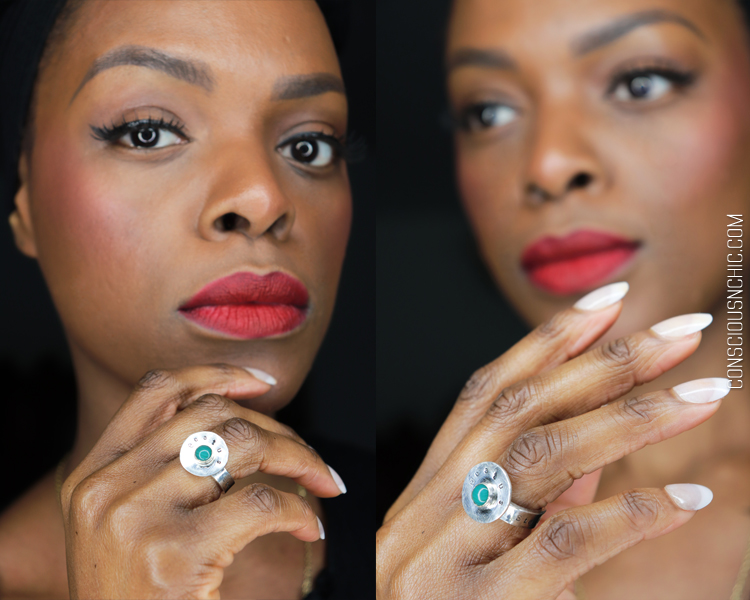 The clock has run out on sexual assault, harassment and inequality in the workplace. It's time to do something about it. – Time's Up
If you missed the Golden Globes this past Sunday, you missed the greatest fashion statement of 2018 (so far). This statement was made in the name of equality and justice. That's right, Tinseltown used its platform in support of the #TimesUp initiative. Time's Up is a unified call for change from women in entertainment for women everywhere. From movie sets to farm fields to boardrooms alike, we envision nationwide leadership that reflects the world in which we live.
It all started when 300 Hollywood women decided to join their voices to the voiceless and speak up about sexual harassment and abuse in the workplace. They invited Golden Globe attendees to wear black in support of this cause but made it clear that no one should be shamed for opting out of this dress code. Amongst the fire starters were Tracee Ellis Ross, Kerry Washington, Michelle Williams, Meryl Streep and Emma Watson who wore a custom sustainable couture gown by Ronald van der Kemp and custom ceramic and a Swarovski ear-hanger to the award show. Even though I have never been a victim of harassment or abuse, I wore black on that night because raising awareness and speaking up for people who cannot speak for themselves is what Conscious & Chic was built upon.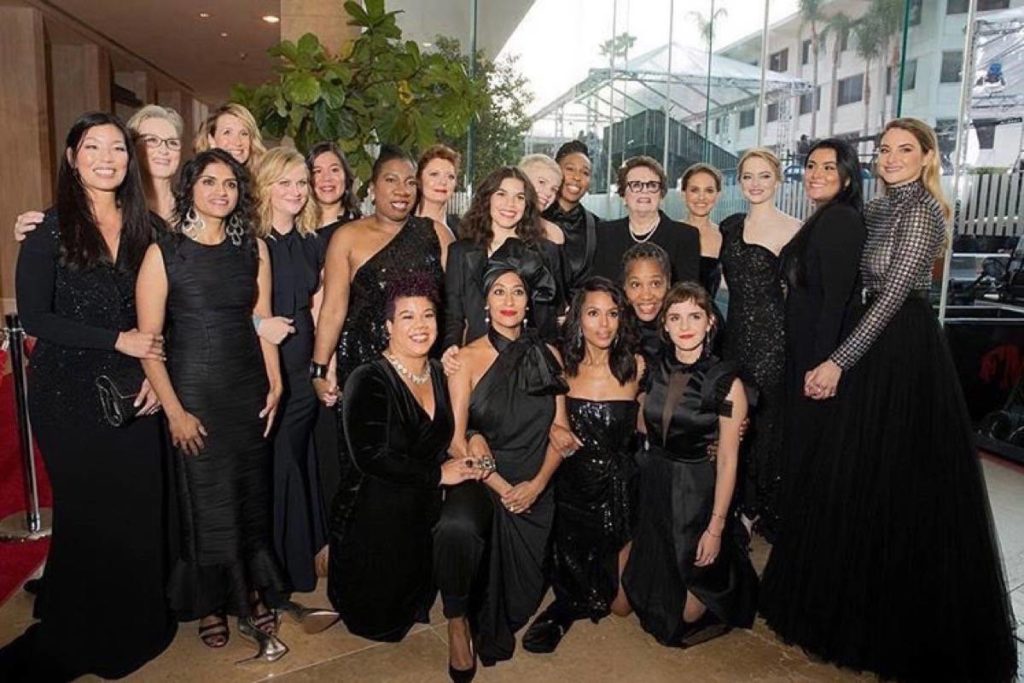 The response was overwhelmingly positive. A sea of celebrities and power players walked the red carpet dressed in black while the #TimesUp message dominated every interview. Later, as I surveyed the room from the comfort of my couch, I was thrilled to realize that everyone (at the exception of three) followed suit and wore black in solidarity with the movement. The #TimesUp message was the real star of the night. From the red carpet, or should I say, black carpet, to the acceptance speeches, it was made clear that harassment, inequality and discrimination in the workplace would no longer be tolerated. Hollywood came together and made a powerful statement through fashion but one moment which had an equal or perhaps greater impact on the audience and viewers was Oprah's acceptance speech.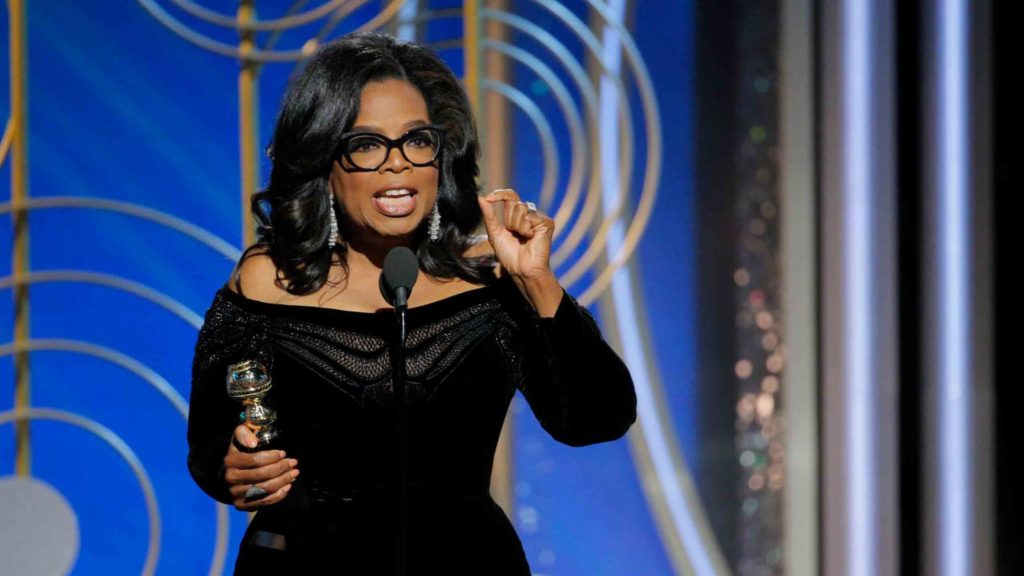 The Cecil B. deMille award recipient gave an inspiring address in true Oprah Winfrey fashion. As soon as her speech was over, thousands, if not millions took to social media to share excerpts and their thoughts on her carefully chosen words. It was empowering, challenging and enlightening.
The Cecil B. deMille award is given to honor people who have made outstanding contributions to the world of entertainment and Oprah is undeniably deserving of this distinction. Oprah's career and life story are impressive to say to least. She overcame and soared to become the wealthiest female entertainer (Forbes list) in spite of her humble beginnings. Her speech which started with her recounting the moment when she saw Sidney Poitier win the Academy award for Best Actor while sitting on her mother's linoleum floor in 1964, came full circle when she said: "It is not lost on me that at this moment there are some little girls watching as I become the first black woman to be given this same award (referring to Poitier receiving the Cecil B. deMille award in 1982)." Many segments of the 9-minute speech made a lasting impression on me including when she said : "What I know for sure is that speaking your truth is the most powerful tool we all have". That sentence reaffirmed in me my commitment to always being myself and inspiring others to fully embrace who they are. It also reminded me of a piece of jewelry I had custom made by jewelry designer Francesca Di Marco, in Italy.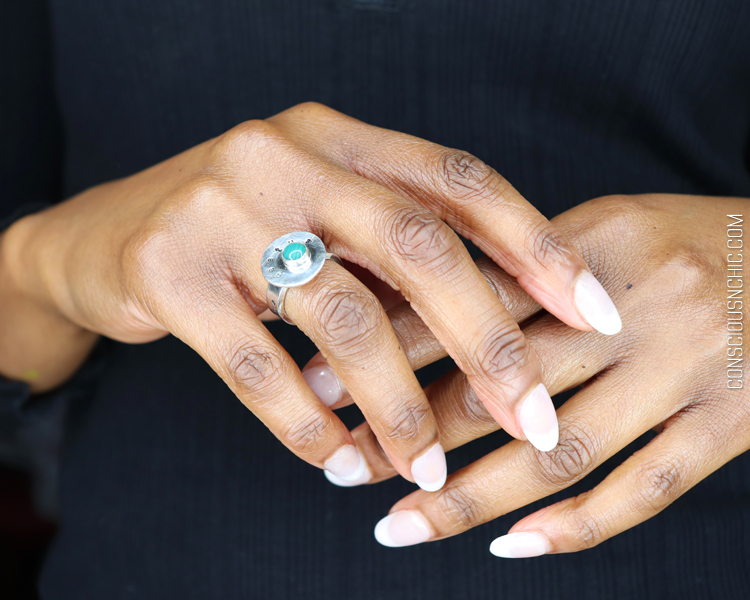 Di Marco is an Italian designer who handcrafts personalized jewelry under her label FrancyJewels. Her pieces are handmade with non-toxic, natural, nickel-free, cruelty-free, biodegradable and recyclable raw materials. When deciding on which pieces I would have her design for me, I thought long and hard about what each piece would say. I had multiple pieces designed including a Green agate sterling silver ring. I wanted the ring's message to be timeless and relevant for onlookers as well as myself for years to come. It needed to speak to the essence of who I was now and would become in the future. Its purpose would be to keep an important truth front and center in my mind yet be a subtle secret between the ring and I. And who knows? It could even peek the curiosity of those around me and spark inspiring conversations.
The message I settled on, 'Beatus' for the front of the ring and 'Sta in veritate tua' for the band, was the perfect choice. 'Beatus' which means 'Blessed' in latin was chosen to highlight the importance of focusing on everything that is beautiful, uplifting and wonderful in life. 'Sta in veritate tua' which means 'Stand in your truth' in latin was chosen to challenge the status quo and inspire a courageous, adventurous and faith-filled life. I cherish this piece now more than ever before. It already held a lot of meaning for me and auntie Oprah infused it with even more power.
5 THINGS THAT CAN HELP YOU STAND IN YOUR TRUTH
1. Fall madly in love with who God made you to be.
2. Don't compromise your values.
3. Stay connected to your why.
4. Understand that it is not about you.
5. Commit to speaking up.
I hope you are never too afraid to speak up and share your thoughts, desires and ideas. If you want me to expound on these 5 points let me know and it will be my pleasure to keep this conversation going. You can chat with me on instagram, facebook, twitter and pinterest.