The Taste of Toronto! What an experience!
It was my first time attending The Taste of Toronto and didn't really know what to expect. I knew it would be outdoors therefore I came prepared with comfortable shoes, sunglasses and a crossbody bag to keep my hands free to hold the goodies I was preparing to feast on. The crossbody bag I chose for the event was a vegan leather Pixie Mood fringe bag that could be converted into a clutch purse for those quick day to night changes. I also prepared a pair of wedges and a pair of high heels, of course. Cuteness meets comfort was my goal.
Here is what I wore:
Day 1 | Media Preview & Opening Night
Day 1 started promptly at 3pm with a media preview where I got the opportunity to see and taste dishes before the doors officially opened at 5:30pm. During the media preview I also witnessed the Best in Taste Awards live and met one of my favorite TV chefs, Chef Aarón Sánchez.
For this look, I paired my H&M Conscious Collection jungle motif pants with a black tank top and a yellow mesh cardigan. I seldom wear earrings but I do like this pair from Esquis earrings designed by an indie jewelry designer based in Montreal. I hesitated between wearing wedges or sneakers on the first day and am I glad I chose to wear the more forgiving of the two because we did quite a lot of walking. [More on day 1 at Taste of Toronto]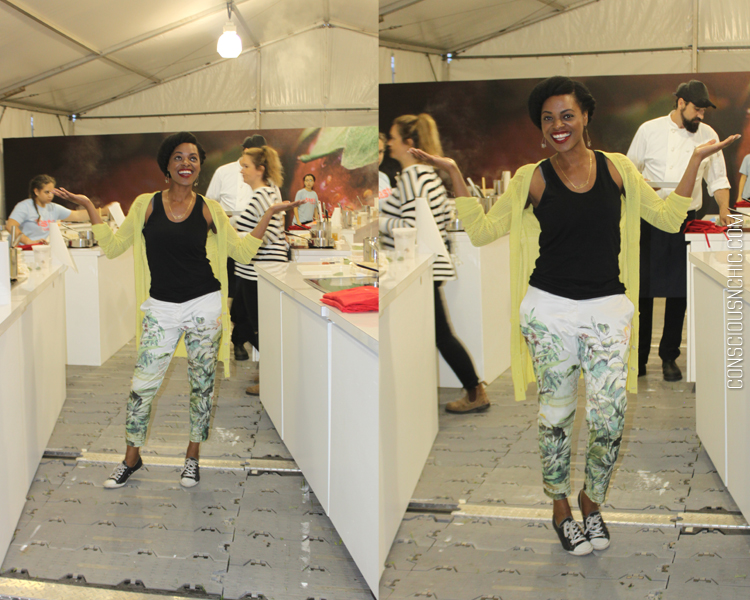 Day 2 | All you can eat
On day 2, I opted for a chic yet really comfortable look. As this was the first full day, I wanted to make sure I wore something I could eat in without feeling self conscious about my growing belly showing! I paired one of my favorite red maxi skirts with an off the shoulder top. I kept my accessories consistent for most of the weekend: Pixie Mood crossbody fringe bag, Welly Merck watch and black & white converse sneakers.
Day 3 | A seat at the table
On day 3, I had to pleasure of sitting at the Chef's Table and engaging in a conversation with The McEwan Group. This is where I ate bugs for the first time, crickets to be exact! But I'll save that story for another day!
Also on the menu was a Master Class with Chef Rob Bragagnolo from Carver and Campo Food Hall. where we prepared a decadent Catalan Chocolate and Olive Oil Mousse with Strawberry, Raspberry and Basil Salad. It was delicious!
For this look, I paired white shorts with a black tank top and a floral duster for a little added drama! My trusty converse sneakers were the perfect cool-kids footwear for this look!
Day 4 | Last call
On the last day, I wanted to leave with a punch! For this look, I wore another number from H&M's Conscious Collection with a breathable hot pink knit tank top. Since it was a shorter day, I thought I'd kick it up a notch and wear wedges! I'm happy to report that I made it to the end of the event with my ankles still in good shape! I breezed through the booths for all the dishes I had yet to try. My only mission: get through my list as I had carefully marked my menu ahead of time. Mission accomplished!
All in all: I came, I saw, I devoured! If you haven't seen my entire coverage of the Taste Of Toronto, enjoy it below.
Day 1: The Taste of Toronto is Officially Open