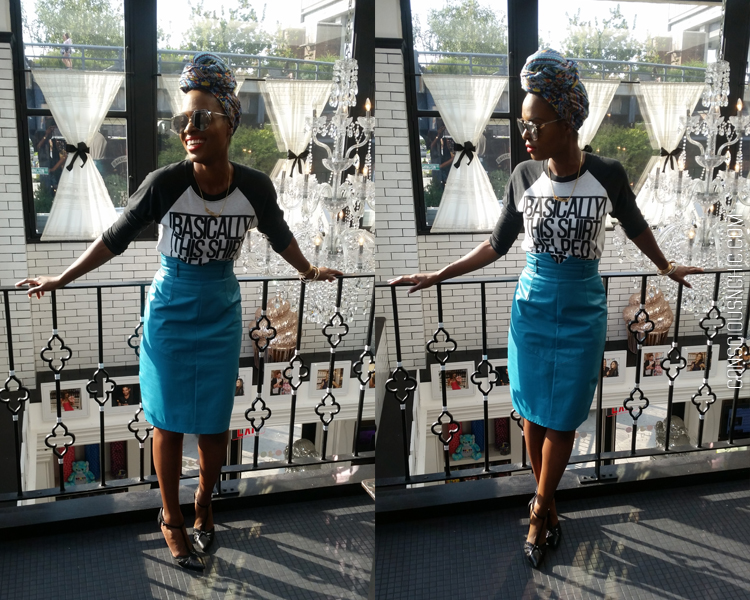 Another New York Fashion Week as come and went and as I'm processing it all, I can't help but think about how much things have changed. You see, I've been attending NYFW for about 10 years now and every season is different. The obvious culprit, the rise of social media and blogging. Back then, #NYFW rows were reserved to magazine editors, stylists, buyers, employees and celebrities. Now, influencers have worked their way all the way up to the most coveted seats in the front rows. We have changed the game forever.
As you can imagine my #NYFW was filled with fashion shows, presentations, showroom visits and screenings. I even made time to check out Smorgasburg and catch up with a friend at Sugar Factory. Spoiler alert the former was by far more vegan-friendly than the latter.
The looks I styled for the week were sometimes spunky sometimes posh but always comfortable. I intentionally reached for #CNCapproved pieces: thrifted, vintage and others from brands I could personally vouch for. I did it to demonstrate how even when attending one of fashion most anticipated events one can be Conscious & Chic!  If you follow me on social media, these looks will not be new to you but the details I share here will be. Hope they inspire you to give back with your lifestyle!
Day 1 | I made that! 
The Conscious: Slow fashion | Custom-made | Charitable
This first look is special to me. It features one of my favorite designs, a pair of wide leg plaid pants. I love creating and sewing is just one of the many ways I express my creativity. I paired the snazzy bottoms with a gray t-shirt, black blazer, black pumps, silver mirrored-glasses, Welly Merck watch and I topped it all off with a black and white tribal print turban.
The tee is also very special. It is a Fund the Nations t-shirt which helped my girl Julissa raise funds to go on The World Race.
Day 2 | Vintage realness!
The Conscious: Vintage | Ethical | Charitable
I went all out on the vintage front for day 2. I created a look with not one, not two but three vintage pieces. The high-waisted leather pants, Dana Buchman metallic blazer and red convertible clutch are all from yesteryears. I purchased the pants while in Toronto for Toronto Fashion Week, I snatched the Dana Buchman stunner from a previously-loved store in Brooklyn where I also found this romper and the clutch is from my mother's collection. I've been fortunate to find many great vintage pieces over the years which transcend time. You see, these pieces could easily be mistaken for contemporary pieces but are of superior quality and showcase obvious craftsmanship and attention to detail because they are vintage!
I paired the vintage pieces with a white halter top by Live The Give, a t-shirt manufacturer with one simple mission: providing children around the world with a quality education.
Day 3 | Layers upon layers! 
The Conscious: Slow fashion | Eco | Vintage
The outfit I created for day 3 was the epitome of fall. I layered to my heart's content as an ode to the upcoming season which happens to be my favorite: fall. The chunky sweater by Anna Sui provided just the right amount of drama without preventing the other pieces in the look from shining. The denim dress by Conrado was a gift from the San Francisco-based brand and I couldn't be more obsessed with it. I am not really a dress person but this piece is so comfortable and versatile that I catch myself reaching for it all the time. On top of creating stylish clothing with a beach to city vibe, Conrado only uses deadstock fabrics which is great for the environment and makes the collections limited-edition by default. That's a win-win situation!
The t-shirt also by Anna Sui transitioned the otherwise more summer appropriate Conrado dress into fall. I cinched my waist with a burgundy belt matching my burgundy pumps. I completed the look with my mom's vintage sunglasses and a chic vintage bag as the cherry on top!
Day 4 | What's that saying? 
The Conscious: Vintage | Charitable
I love wearing t-shirts with dope sayings. This one is by Basiq Tees and says " Basically this shirt helped another human. What did your shirt do?" How rad is that? Basiq's mission is to sell Basiq tees to meet basic needs around the world. With the proceeds of their sales they support water, feeding and shelter projects. With my snazzy tee, I wore a stunning vintage turquoise leather skirt, denim jacket, black high heels, a vintage purse, silver mirrored glasses and a colorful turban.
Day 5 | It's a wrap!
The Conscious: Vintage | Local
It's not secret that I love headwraps. They are so regal, versatile and have the power to change a bad hair day into a masterpiece. This next look was created around this Flamingo Pink headwrap by Wrapped by Nellz. I paired the Made in Brooklyn beauty with a vintage dress made fall-ready by this white button down shirt, neutral stacked heels and a black suede convertible clutch. Let's not forget about my mom's sassy vintage glasses!
I throughly enjoyed this season of New York Fashion Week and had a great time getting dressed up! Creating looks that were not only chic but highlighted my mission to raise awareness and inspire others to be conscious and look good while doing it was bomb! I hope you enjoyed the looks and that at least one of them got your creative juices flowing!
If you recreate one of these looks or style conscious and chic looks of your own please share them with me on social media as I would love to see them! Instagram or Facebook or Twitter.