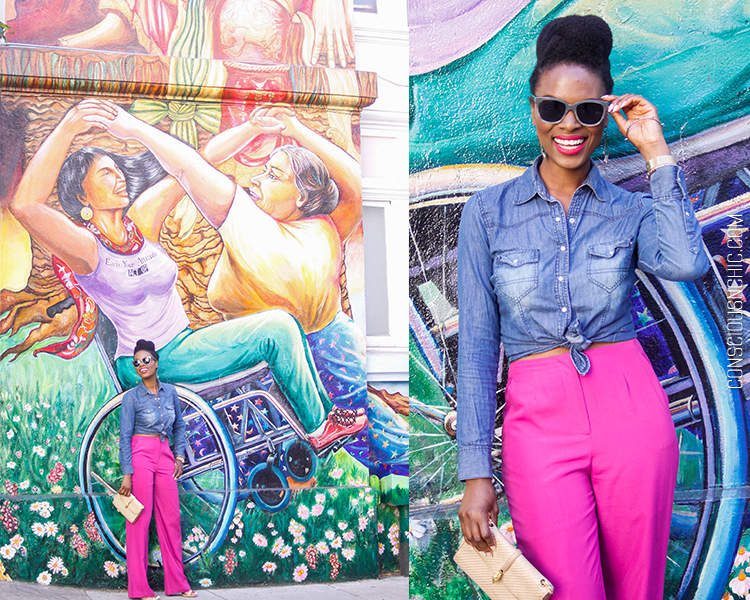 To complete my San Francisco fashion series, I created a bright, spunky but more importantly simple look for you. I absolutely love it because it exemplifies how fashion is meant to be: fun without being so complicated!
Before we dive into all of this goodness, you should know that I stay away from showing too much skin on purpose. Although bits of my stomach are showing here and there  in these photos, I still think this pairing is classy and not inappropriate.
Now back to my amazing adventure in San Fran! I spent about 2 weeks in the Bay Area and for this trip, as for every trip, I only packed a carry on and yet had so many options to choose from beauty and style wise. Yes, my packing skills are on another level and because I love you and want you to live your best travel life, I compiled my top 10 packing tips here.
Packing Tip #9 (Excerpt taken from 10 Tips For Packing Light Without Sacrificing Your Style)
AWAKEN YOUR INNER STYLIST 
I cannot stress this next tip enough. Plan your outfits ahead of time. Plan your outfits ahead of time. I'll write it again: PLAN your outfits ahead of time! Instead of packing "options" pack complete outfits from head-to-toe. I know what you're thinking and I can assure you that you will not lose on the versatility front. Out of these fully planned looks, you will be able to create a multitude of additional options to mix and match. That's the beauty of this method! Lastly, since traveling can be tiring and play tricks on your mind, take pictures of each outfit for easy reference. When the time comes for you to get dressed just refer back to your pictures to select what to wear. In addition to making getting dressed a breeze, this photos system also enables you to know what you packed without having to rummage through your bag to create new outfits.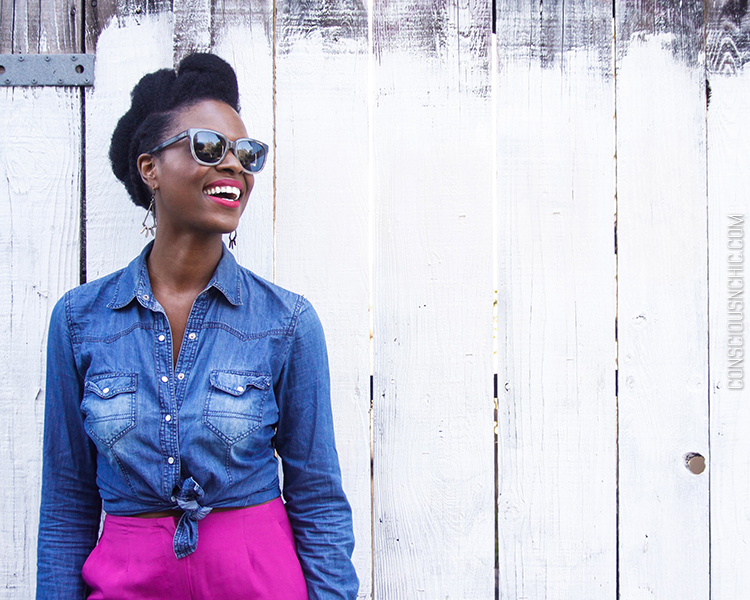 For this look, I paired my trusty denim shirt with my favorite BCBG Max Azria hot pink trousers. I tied the denim shirt at the waist to show off the pant's high-waist and add a little flirty element to the outfit. I accessorized this look with my buy-one-give-one Warby Parker sunglasses, stunning handmade earrings by a Montreal-based artist, Shore Projects gold watch, neutral high heels and a convertible vintage clutch I thrifted in Brooklyn.
The colorful feminine look was shot in front of the first women-owned community center, the Women's Building.  This women-powered safe haven for the community offers a safe place in the heart of San Francisco's Mission District and boasts the most beautiful mural which you will see below. It is a must-see! Enjoy!
I hope you enjoyed this look and the entire San Francisco fashion series. You catch up on the first and second looks if you missed them. If you enjoyed it let me know on social media: Instagram or Facebook or Twitter. Also let me know which one was your favorite!

Photo Credits: Roseline Bonheur